The £29m seafront improvements at Weston-super-Mare have won another award – this time from The Institute of Civil Engineers which has identified the improvements as the best major scheme in the South West. It follows hot on the heels of a commendation for the scheme from the Concrete Society and also recognition from the Considerate Constructors scheme where it gained a silver award. The scheme has also been named the engineering excellence (infrastructure) winner by the Association of Consulting Engineers.
North Somerset Council's £3.9m scheme to redevelop Pier Square has also been recognised after being declared the winner of the pedestrian environment category in the 2011 Street Design Awards. This project is also the recipient of the 2011 paving award from the Worshipful Company of Paviors.
The council's deputy leader and executive member for planning, Cllr Elfan Ap Rees, said: "As always with these major schemes there were critics about the effects the construction phase would have on business and the tourist trade.
"I have no doubt at all that the end result proves its worth. We get loads of positive comments from residents and visitors and with the completion of the work on the seafront and the decision to go ahead with the Rotunda on Pier Square, Weston is firmly on the tourist map as a place to visit and proposals for other developments such as Dolphin Square and the snow dome show the area is definitely on the up!"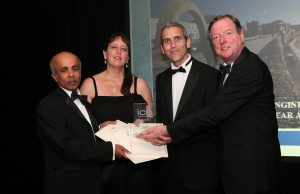 From left: North Somerset Council's Karuna Tharmananthar, deputy director of development and environment, and Rachel Lewis, regeneration manager, together with Chris Hill from contractors Birse, being presented with the South West Major Scheme award by Richard Coackley, vice president of the Institute of Civil Engineers.