Cider makers Thatchers have taken another step towards growing volume sales by a remarkable 25% this year following the installation of one of the most advanced bottling and packaging facilities in the UK.
The North Somerset company has invested £2.5m in cutting-edge Krones machinery to fill, cap and label its bottles. The plant took two months to install and has boosted the filling and labelling capability of the bottling hall at Myrtle Farm, Sandford, from 6,500 to 20,000 bottles per hour.
Managing director Martin Thatcher, the fourth generation of the Thatcher family to run the 107-year-old business, said: "This is a major investment – the quality of our cider comes first and it's a long term commitment. We continually invest in our orchards, and just two years ago invested over £1m in a new, fully automated fermentation system.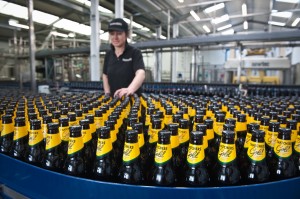 In fact the company has committed £5m towards upgrading its marketing and production facilities – a strategy that is working because its market share continues to grow nationally.
Flagship brand Thatchers Gold remains the company's leader in both the on and off trade, with the brand supported by a continuation of its TV campaign first launched in 2010.
Martin Thatcher added: "The investment in our brands reinforces our continued commitment to quality. This starts with our apples, and we continue to place the highest emphasis on the cultivation of our orchards. With the purchase last year of a further 180 acres of orchard, we now have 360 acres here in Somerset. We are experts and leaders in orcharding and apple growing, managing our own orchards as well as advising others on apple growing.
"We play a leading and key role in research and development of apple varieties. Our commitment to this is demonstrated in our exhibition orchard with 500 different varieties of apples which we have developed over the last 20 years."
The innovative management at Thatchers was recognised before Christmas with a major award through the HSBC Business Thinking Competition. Named the South West Regional Winner, the company has benefitted from mentoring and experience gained through the competition to start trading internationally, despite the tough economic climate, and has used the funding it received from HSBC to implement its business plan, and in particular make these new production facilities a reality.