Samantha Barnes, an auditor from the Bristol office of accountants Smith & Williamson, has been named as one of the UK's best up-and-coming young accountants.
Samantha, 26, pictured, was one of 'Rising 20 Stars of the Profession' chosen for the accolade by ACA students' magazine Vital.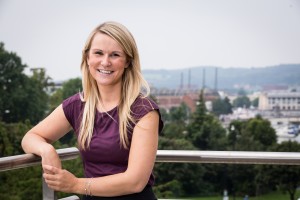 Samantha's nomination was supported by Jon Talbot, a partner in Smith & Williamson's Bristol assurance and business services. He said: "Sam strives to excel at everything she does and, like her peers, she is committed to providing excellent client service.
"However, in my opinion she always goes the extra mile and is keen to take on any assignments regardless of how challenging they are in terms of technical or timetable issues."
Sam, who works as an audit senior at Smith & Williamson's Bristol office, said: "I am really pleased to have been chosen and it is rewarding to see the hard work is beginning to pay off. I look forward to progressing further within my career and hopefully to a more managerial role in the future."
Sam joined Smith & Williamson's graduate training programme in 2012 after graduating with a master's degree in Management from the University of Bath. She also came top of the West of England region's Financial Reporting and Financial Management exams last year.
Sam's achievement closely follows that of tax trainee Tara Moxey, also based in Smith & Williamson's Bristol office. Tara has been named as one of the 25 'most promising' tax professionals under 25 by the Association of Taxation Technicians (ATT) to mark its 25th anniversary.