Leading figures from Bristol's business community marked the start of the Chinese Year of the Rabbit by celebrating the burgeoning links between the city and China at a special banquet.
Staged by the Bristol and West of England China Bureau, the annual showpiece for the Chinese New Year brings together firms and professionals doing business in China with politicians and representatives of a range of Chinese organisations.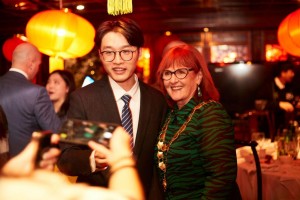 Lord Mayor of Bristol Councillor Paula O'Rourke, pictured, was guest of honour at the event at Wong's Restaurant and took the opportunity of praising the long-standing business, education and cultural partnerships between the city and China.
Bureau chief executive Dianne Francombe OBE spoke about the strong ties with Bristol's sister city Guangzhou and the growth of business links across other Chinese cities as well as the development of educational partnerships, including with the University of Bristol and UWE Bristol, which were fostering a greater understanding between young people.
She added: "Our event brings together civic dignitaries, representatives of businesses and organisations engaging with China, students and scholars and enthusiastic supporters of harmonious relations between our great nations.
"It is a platform to celebrate the Chinese New Year and experience Chinese culture and a wonderful banquet while learning about the level of engagement between our region and China across all aspects of business and education."
Having been disrupted by the pandemic, the regular business missions between Bristol and the West of England and China are to restart later this year with the bureau's director of business initiatives Richard Lowe leading a delegation to Hong Kong.
Called Hong Kong – Your Tech Gateway to Asia Pacific, the mission takes place from 13-17 November. For more information on this or the bureau's other events, email dianne@chinabureau.com
Photo courtesy of Mitchell Williams, New Silk Route Digital