Xledger, the Bristol-headquartered finance software company, has extended and broadened its sponsorship with Bristol Sport by becoming the group's official finance solutions provider.
The move means Xledger, which provides cloud-based finance software for more than 10,000 mid-market customers in 60-plus countries, continues as back-of-shirt sponsor for Bears Men, Bears Women, Bears Academy and Bristol Flyers, along with the new commercial deal with Bristol Sport itself – which Xledger CEO Mark Pullen described as making it the "team behind the team".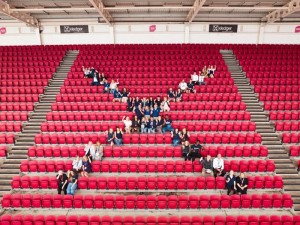 The firm, which has enjoyed exponential growth over the past two years, started its partnership with Bristol Sport in 2019 when it became principal sponsor of its rugby-led Bears Academy.
That was followed in 2020 by a two-year, front-of-jersey deal with the group's professional basketball team Bristol Flyers, along with a long-term sponsorship of the South Stand at Ashton Gate – home to the Bristol Bears rugby club and Bristol City FC.
Then last year the firm stepped up to become Bears Women principal partner.
Xledger said its partnership with Bristol Sport had always been about aligning two Bristol-based organisations with a shared ethos and culture.
Bristol Sport, it added, uses the collective power of the sporting group to drive sustainable success and promote access to sport across all ages and capabilities.
The partnership has also matched Xledger's interests of wanting to invest in and support the local community while recognising the positive impact and influence that sport has on the breaking down of social boundaries, age groups and inequalities.
Bristol Sport managing director Mark Kelly said: "We are delighted to see our partnership with Xledger continue to grow.
"They've been great partners, particularly over the last two years of Covid, as stadium sponsors and those of our sporting teams.
"Xledger talks about 'empowering ambition' and that is exactly what they have done with us. They've supported our Bears Women, Academy and Flyers teams, to help them attract greater investment and get to a stronger and more sustainable base than ever before.
"We'd been looking at a way of underpinning and uniting our accounting processes across all our teams, Ashton Gate and Bristol Sport and kept coming back to the product that one of our existing partners already had. It was the smart and sensible choice to bring it all together.
"To see the Xledger logo cement its place in one united position (back of shirt) across four of our sporting teams and for us to embark on this accounting partnership is testimony to the strength and dynamism of our relationship."
Xledger CEO Mark Pullen added: "It's incredibly exciting for Xledger to take its place alongside Bristol Sport and the Bears Men, Bears Women, Bears Academy and Bristol Flyers, but this relationship has always been so much more than a badging exercise for us.
"Our relationship with Bristol Sport is representative of two organisations which are both growing and becoming increasingly successful for the right reasons.
"Empowering our joint ambitions is the driving force behind this partnership, this is something we've been doing through the Bristol Sport Bears Academy for some time, and now it's exciting to grow this ambition further.
"Additionally, striking a unique commercial deal with Bristol Sport, to become the official finance solutions provider, or the team behind the team, is another pathway to allow us to jointly recognise our shared ambitions."