Staff from Bristol law firm Burges Salmon are helping clear a site near Cribbs Causeway as part of Bristol Zoo's ambitious plan to create a world-class conservation park on the edge of the city.
Stage one of the new visitor attraction, Wild Place, is due to open this summer and teams of volunteers are busy with planting as well as clearing to prepare the site.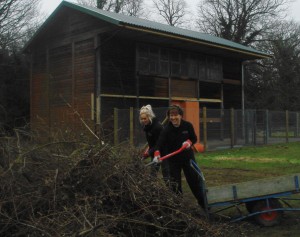 Wild Place will be the first step in the development of the zoo's National Wildlife Conservation Park (NWCP) – a unique 55-hectare zoological park which is expected to attract 100,000 visitors during its first year.
Since gaining planning consent in 2010, Bristol Zoo has been seeking ways develop the site ahead of the full NWCP coming on stream.
Zoo director Dr Bryan Carroll said: "Wild Place is the first step on a fantastic journey towards creating the ultimate vision of a world-class attraction in Bristol and Europe's only conservation park.
"Bristol Zoo is proud and excited to take that first step this summer in the form of Wild Place."
Wild Place will utilise the existing woodlands, currently filled with rare species of snowdrops to be followed with bluebells in May.
Subject to planning, visitors will be able to take several different woodland walks, discovering flora and fauna as they go, glimpse eco-systems from around the world including a Madagascar walkthrough, which will be home to several lemurs, and an East African savannah with zebras and eland roaming in the grassland.
Dr Carroll added: "Wild Place is a fantastic opportunity on the edge of the city to get local people engaging with their local environment as well as being able to hear about the conservation work we're doing in Madagascar."
Existing buildings on the site will be renovated as a cafe, offices and a play barn.
Burges Salmon director of operations and best practice, Emma Dowden, has been leading one of the teams of volunteers at the site. She said: "Volunteering forms an important part of our wider corporate and social responsibility programme. Everyone at the firm is entitled to one day's paid annual leave each year to carry out a volunteering activity of their choice.
"We have had more than 50 staff take part in volunteering activities here at the Wild Place site in the past 12 months – and more is planned for this year. We would encourage other organisations to consider this as a great teambuilding opportunity – as well as providing valuable in-kind support to our local community by contributing to this inspiring conservation project."
Wild Place is expected to open in July. The zoo hopes by pricing family tickets at the relatively low cost of £20, people will be inspired to bring their children to learn about threatened habitats on their doorsteps and around the globe.
Dr Carroll said: "Drawing on Bristol Zoo's extensive experience in managing conservation projects on a worldwide basis and on the resources of the well-regarded management of our local zoo, plans are advancing on all fronts for this new park: content and design, construction, operation and financing.
"We have specialists working for us both in London and Bristol to realise all aspects of the park, which aims to educate a wide population about the important of conservation in a highly appealing, innovative and interactive environment."