Rapidly expanding Bristol cybersecurity firm Immersive Labs has unveiled its playful new headquarters in Bristol – complete with scooters, games room and wellness suite.
The 16,000 sq ft workspace, pictured, which takes up the entire sixth floor of The Programme, the refurbished curved office building on All Saints Street, is the latest in Bristol to be created by Bath-based strategic workplace design company Interaction.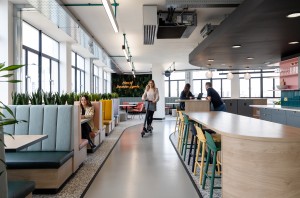 Its brief was to create a fun, bright and airy space for the business, which in just five years has gone from start-up to a global organisation employing more than 300 people.
Immersive Labs' innovative Cyber Workforce Optimization platform is helping leading enterprises around the world, including defence and financial institutions, minimise their risk from cyber attacks.
Its expansion has meant it outgrowing all its previous bases – the last being in the Runway East co-working building next to Bristol Bridge.
So for its new HQ, where just over 30 people will work, it wanted to create something special, especially as many of its staff have been working at home or remotely over the past couple of years.
The emphasis is on fun, with a nod to Immersive Labs founder and CEO James Hadley's passion for Formula 1 – the firm is an official partner of the McLaren F1 team and has its branding on its cars.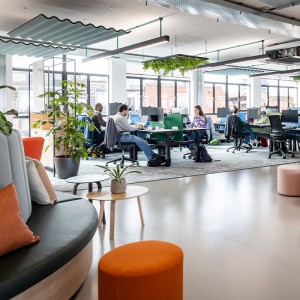 There is a scooter pathway so staff can ride from space to space as well as a games room and various chill-put spaces and a quiet room while meeting areas are named after Formula 1 circuits.
Interaction's design takes into account the curvature of the building with soft curves used throughout, while spaces and walkways are designed to be fluid to encourage movement.
Meeting rooms have been positioned in the middle so the entire floor benefits from maximum natural light.
Along with desk spaces, collaborative and private work areas and auditorium for staff 'town hall' meetings, other key design features include a soundproof podcast room, a wellness suite where staff enjoy regular lunchtime yoga sessions, and a green wall of foliage which greets visitors entering the office.
Immersive Labs executive assistant to the CEO Emily Farrington, who lead the project for the firm, said: "When it came to appointing a design and build partner to work on our project, the Interaction team really stood out.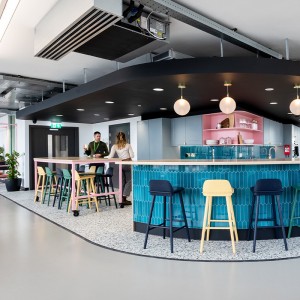 "They understood our vision immediately and enhanced it with their years of experience. Their knowledge of the post-Covid workplace was essential for helping understand the way we need to work, and their passion, design flair and storytelling ensured all stakeholders were bought quickly onside.
"Once underway we were impressed with how clean, tidy and professional the site was – we were always welcomed, even though timelines were tight. Interaction pulled out all the stops to make sure our workplace was delivered on time and in great shape.
"The whole project has been a game-changer for Immersive Labs. We now have a jaw-dropping, world-class office in which to house some of the UK's top tech talent."
Interaction managing director Dieter Wood said: "We're really excited to deliver this playful new office space for Immersive Labs.
"The firm wanted its new headquarters to be compelling, characterful and cool – in short, they wanted to attract the brightest minds by offering the best employee experience.
"So we proposed a design based around the idea of an immersive experience – a multi-sensory space which incorporates the firm's principles of inclusivity, agility and drive.
"Happy and engaged employees get more high-quality work done and are likely to stay at their company longer. It can also increase staff wellbeing and encourage greater collaboration if you get the work/fun balance right."
Bristol property agency Morton Property Consultants acted for Immersive Labs on the acquisition of the office at The Programme.
Formerly known as The Pithay, The Programme was built in the 1960s as a base for various government departments. At 180,000 sq ft, it has once Bristol city centre's largest office scheme. It has also been home to call centres, private offices and a creative arts collective.
Interaction's key workplace contracts in Bristol have included global cloud-based finance software provider Xledger's office at Tower Wharf, GKN Aerospace's Global Technology Centre at Filton, and femtech business Elvie's base in the city.