The developer behind the South West's first net zero out-of-town office scheme has appointed regional construction firm Beard to the £17m project.
The scheme, pictured right, Bristol's first speculative out-of-town office scheme in over a decade, will involve redeveloping and extending the existing 1000 Aztec West building in North Bristol.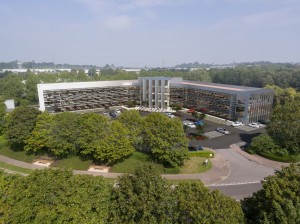 Green and sustainable initiatives will be added to achieve net zero when it reopens while also achieving significant carbon savings during the rebuilding process.
1000 Aztec West will be more than doubled in size, from 38,000 sq ft to 80,000 sq ft, with a third floor added – making it large enough to house around 850 employees.
When reopened it will include a gym and wellness centre, lakeside café and terraces and rooftop terraces overlooking the lake parklands. There will also be a new triple-height entrance, pictured below.
Designed to meet BREEAM Excellent and EPC A, the transformed building will be powered by renewable energy, sourced through a Renewable Energy Guarantee of Origin (REGO) contract.
New sustainable features will include an array of rooftop photovoltaic units, energy-efficient heating, cooling and lighting systems, and a design approach that reduces the amount of energy the building needs.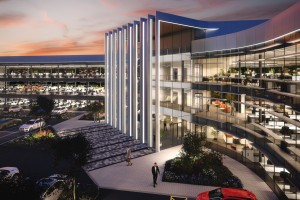 The development will also have electric vehicle charging points, a cycle spa including wellness facility with showers and lockers to encourage sustainable travel.
The scheme, forward funded by CBRE Investors for London-based developer CEG, will be in accordance with the UK Green Building Council's (UKGBC) framework approach.
Beard Construction, which has an office in Bristol, will start work this month with completion expected next summer. The building has already been stripped back to the steel to prepare for development.
Beard Bristol director Matt Cooper said: "While working with an existing structure brings challenges, there are significant benefits as well.
"By repurposing the existing frame at 1000 Aztec West we can save a huge amount of carbon, as the original building is not destroyed, and therefore the energy of the initial build is not wasted.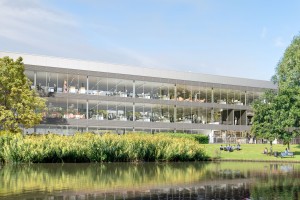 "As an experienced contractor in this type of project, we are proud to have been chosen to work with CEG on this first for the Bristol out-of-town office market."
CEG investment manager Jimmy McWilliams added: "The comprehensive redevelopment of 1000 Aztec West will deliver a city centre specification building in this popular business park, something that has never been delivered in out-of-town Bristol before.
"In addition to boasting a fantastic lakeside location, this development addresses the key requirements of modern office occupiers – sustainability, staff wellbeing, on-site facilities and data connectivity, all designed to enhance productivity and help occupiers attract and retain the best talent.
"You cannot underestimate the role the workplace plays in attracting staff, driving performance and helping deliver corporate sustainability aspirations. Workspace is no longer a necessary cost burden but a strategic tool to support the delivery of business goals.
"It is this, and our confidence in the Bristol market and this great location on the city's best business park, that has driven this investment into Aztec West."
CEG currently has investment properties worth £300m under management across Bristol. As well as 1000 Aztec West, the team also manages The Crescent Centre and the Quorum in the city centre, which together have 250,000 sq ft of office space.
It is also behind the flagship 200,000 sq ft EQ development now under construction at 111 Victoria Street.
1000 Aztec West is being marketed by property agents Carter Jonas, Cushman Wakefield and JLL, who are offering floor plates of up to 27,000 sq ft.
JLL director of office agency Ian Wills said: "For the first time on any business park in this region, 1000 Aztec West will offer its occupiers quality of space matching the very best city centre buildings.
"As well as a range of landlord-provided amenities such as the café and gym, it has the highest ESG credentials being net zero carbon in operation and providing extensive EV chargers. 1000 Aztec West will offer occupiers an exceptional user experience."
Cushman & Wakefield partner Steve Lane added: "CEG's commitment to deliver an office of this quality will offer tenants the opportunity to occupy sustainable, 'best-in-class' offices in an exceptional lakeside setting on the South West's premier business park."