PEEQUAL, the Bristol company behind the UK's first women's urinal, has won two major titles at the South West's biggest competition for small businesses.
The firm, set up by University of Bristol graduates Hazel McShane and Amber Probyn, won the Business and Product Innovation and Start Up categories at the FSB South West Awards regional finals held in Weston-super-Mare this week.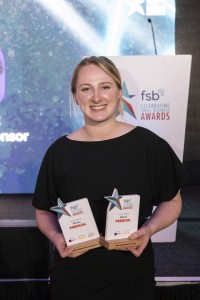 The double victory was the latest award success for PEEQUAL, which is six times faster to use and produces 98% less carbon than traditional portable toilets.
The queue-busting flatpack portable urinals, which are made from recycled sea plastics, have already been used to great acclaim at a number of major music festivals including Glastonbury, Wilderness, Green Man and Shambala.
Amber, pictured with the two FSB awards, said: "We are so grateful to have won these awards as we are determined to let people know what we are doing and having other businesses and the FSB champion us like this really helps us to get our message out.
"You have to have a really strong belief when you start a business that what you are doing is right and these awards, judged by people who really know what it is like, will help to validate that belief."
PEEQUAL's success in the FSB South West awards means it has qualified for the UK final in Birmingham in May.
Five other businesses from the Bristol area had been shortlisted for South West awards – Studio Duo (community award), Bristol Twenty Coffee Company (family business award), Ruby and White (larger business award), H2R Selection (diversity and inclusion section) and previous winners Rockit, who were shortlisted in the micro business category.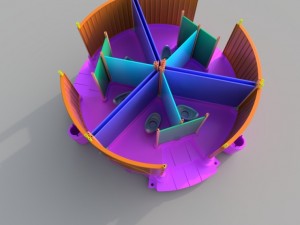 In total 12 awards were handed out to SMEs and entrepreneurs from all across the region at the ceremony at the Winter Gardens.
FSB South West chairman Lee Nathan, who is based in Bristol, said both the quality and quantity of the region's entries this year had stunned the judges.
"Entries flooded in from all across our area from Cornwall, Dorset, Wiltshire, Bath, Somerset, Gloucestershire, Bristol, South Gloucestershire and Devon and even picking regional shortlists for the categories was a nightmare for our judges let alone actually picking the winners.
"This was our unique chance to showcase what we all truly believe – that the South West has the best, most innovative and most creative small businesses in the whole of the UK," he said.
Sponsorship for the event came from Reach plc, NatWest, Tyl by NatWest, Aldermore, FSB Insurance, Weston College, Renishaw, Lexus Bristol and Gravity. 
South West awards