Joni Farthing, founder and director of Women Outside The Box, the Bristol-based festival of female entrepreneurship, has been shortlisted for the IoD's inaugural Women Changing the Business World Awards.
The awards, staged in association with HSBC and the IoD's Director magazine, celebrate the inspirational female business leaders who are bringing about a shift in the UK's business landscape.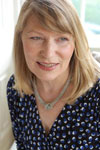 Joni, pictured, launched Women Outside The Box in 2012 to act as a forum where women could network, share ideas and be exposed to wider business opportunities than some may have thought possible.
The nominees were selected for making a contribution that has resulted in palpable change.
Also on the shortlist are Cheltenham-based virtual marketing agency Elephant Creative managing director Helen Hammond, Harriet Kelsall, managing director of Harriet Kelsall Jewellery Design, Jo Lawrence, founder of Pink Plumbers, an all-female plumbing brand in Coventry, Surrey-based Brand Learning's CEO Mhairi McEwan, Karen Mattison and Emma Stewart who, on finding they weren't able to get part-time work at their skill level after having children, launched The Timewise Foundation in London to stimulate the creation of more good quality, part-time jobs, and Lindsay Pattison, CEO of Maxus UK, based in the capital, whose blog – and working practices – promote women in business.
IoD senior adviser on diversity and one of the judges Lisa Buckingham OBE said: "The sheer quality of entries to these awards shows what a valuable contribution women already make to UK business, whether that's through starting their own enterprises or progressing their careers in the larger corporate world.
"It is the IoD's determination that the British economy should not lose out on this vibrant female talent that has led us to champion these awards and other initiatives to promote top flight women executives.
"We want to see more women decision makers like those featured in these awards rather than hoping diversity targets will be met solely through the appointment of non-executives."
The winner will selected by the judges and the readers of Director magazine, and will be announced in its March issue.