A team from Barclays are on a high after testing out a new adventure course at Bristol Zoo's Wild Place Project. The Leap of Faith challenge includes a 12-metre high totem pole which participants climb before launching themselves off a platform to grasp a swinging punch bag.
The course, which opened to the public on Saturday and is being promoted to businesses for corporate teambuilding sessions, includes a climbing wall with views of nearby zebras grazing in the fields. Another exciting challenge is the Jacob's Ladder where groups help each other to get to the top of a 10-metre ladder with rungs up to 1.8 metres apart.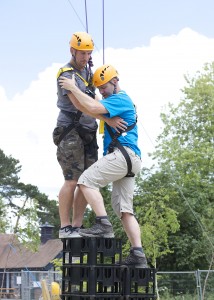 The Barclays team have helped regularly at the Wild Place's special volunteer days since before it opened to the public near Cribbs Causeway last July. The ambitious project is creating a world-class conservation park on a 55-hectare site on the edge of Bristol.
The team were called in as guinea pigs for a special team-building session using the Leap of Faith.
Senior business manager in Bristol, Paul Flower, said: "We've provided the manpower to lay paths, for example, so when the opportunity came to try out the Leap of Faith we jumped at it.
"It's important to us at Barclays to work with organisations such as this which benefit local communities and we hope everyone enjoys the new venture as much as we did."
Pictured: Barclays team members climbing crates at the Wild Place
Wild Place director of commercial operations Wendy Walton added: "Leap of Faith offers groups the opportunity to physically challenge themselves and work together to fulfil a group objective. Our bespoke teambuilding packages enable businesses to ascertain what they want to achieve from exercise – from this we can then tailor the experience to meet their needs."
These packages can include a one-hour sales clinic led by Karen Dunn-Squires of Elation Sales, who looks at the many sales techniques she's utilised and developed throughout her career.
The Wild Place has continued to develop since it opened nearly a year ago and is now home to a pack of European grey wolves, red river hogs and a rare sheep breed as well as animals from Madagascar, East Africa and the Congo.
Visitors can find out how the project is helping to conserve them in the wild as well as enjoying a stroll in the woods, relaxing in the Tower Meadow or visiting the Fun Fort outdoor kid's adventure park.
Pictured: Anne Gorringe braves the Leap of Faith