A series of films commissioned by the University of Bristol in which founders, researchers and academics from the university talk openly about their personal experiences of getting into enterprise has attracted widespread interest and applause for its diverse topics and honest approach.
Called The Enterprise Sessions, the broadcast-style interviews feature Prof Michele Barbour, the university's Associate Pro Vice-Chancellor: Enterprise and Innovation, quizzing guests about the challenges of setting up a business, raising funds and investment and the joys of seeing their ideas realised.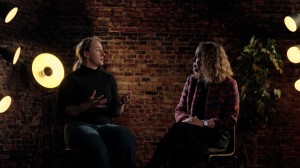 The series was created to inform and inspire other academics and researchers within the university about what it is like to go into enterprise – both the upsides and the downsides.
But the advice given has appealed to wider audiences, so far attracting more than 3,000 views on the university's YouTube channel.
Those taking part include Bristol founders Tom Carter (Ultraleap), Amber Probyn (Peequal – pictured, right, with Prof Barbour), Konstantina Psoma (Kaedim), Neciah Dorh (FluoretiQ) and Martin Challand (Zentraxa), alongside academics and researchers from the university who are working in industry partnerships or as consultants.
Tom Carter, CEO of handtracking and haptics company Ultraleap, talks about how "running startups means you're gonna get punched in the face a few times" but it's the personal fit with the investor that's going to stand the test of time.
Amber Probyn, co-founder of Peequal, the UK's first women's urinal, recounts that as a young female founder she hit barriers in raising investment but found in the end "the right investors who believed in them".
Konstantina Psoma, CEO of 3D software company Kaedim, shares that her motivations in running a company have shifted over time and her incentive now is being a role model to future female entrepreneurs, while Mahmoud Mostafavi, director of South West Nuclear Hub, talks about the long-term scientific relationship between the university and EDF to solve tangible energy problems.
Prof Barbour said: "This series has been a delight to make. The University of Bristol has an impressive track record of enterprise and innovation, ranked first amongst UK universities for the return on investment achieved by its spinouts and in the top 3 for equity investment in its spinouts.
"The series has allowed us to develop rich conversations with our interviewees and share that knowledge within our community as well as wider audiences involved in research, innovation and enterprise."