Bristol businesses are being challenged to come up with new and exciting ways to raise funds for city charities and voluntary groups as the first Bristol Giving Day approaches.
Staged by Quartet Community Foundation, the independent charity that works across the West of England to support local philanthropists in their charitable giving, Bristol Giving Day takes place on October 10.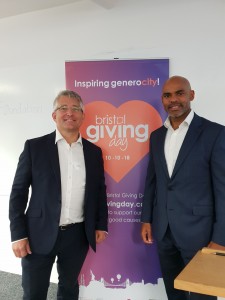 The initiative was officially launched earlier this week at an event described by Mayor of Bristol Marvin Rees as a "powerful morning".
He spoke passionately of the challenges facing the city – challenges which Bristol Giving Day aims to address.
Quartet chief executive Sue Turner explained how 90% of all charity donations went to just 7% of charities. Yet there were hundreds of small charities operating in the West of England that are directly addressing local issues.
"They don't have marketing departments in the way the bog charities do so they don't get their message out to local businesses," she told the launch at Triodos Bank's meeting space The Foundation.
Bristol Chamber of Commerce & Initiative James Durie said local businesses had a strong reputation for innovation and enterprise but the wealth they generated was not evenly spread around the city.
Lizzie Bond, CEO of Changing Tunes – which encourages prisoners to learn a musical instrument – spoke about the demands on small charities.
Changing Tunes has been operating for 30 years and now stages weekly music sessions in 14 prisons and along with post-sentence sessions.
"We give people a feeling of hope and purpose. They gain confidence. We could do so much more, but our budget is just 300,000 a year," she said.
"If you are interested in doing something radical in what is a hidden community – but that is still part of the community – please raise money for us."
Her point was brought home by one ex-offender who had attended its sessions at Leyhill Prison.
A number of Bristol businesses are already preparing to show their 'generocity' by engaging in all manner of activities from quizzes to physical challenges, while raising funds for small local charities. Businesses without a specific charity in mind can also donate to Quartet, which will then distribute the funds.
Sue Turner added: "Our local charities, community and voluntary groups are hugely important to making our city a better place for everyone here. These groups need support to enable them to keep helping others; businesses want to help but find it very difficult to locate the local causes to give to. Through Bristol Giving Day we can bridge this gap."
Bristol Giving Day is endorsed by the High Sheriff, Lord Lieutenant and Metro Mayor, supported by Bristol's membership organisations and sponsored by The Bank of Ireland UK, Bristol-headquartered national law firm Burges Salmon and Bristol-based student accommodation group Unite.
To take part, visit: https://bristolgivingday.co.uk/sign-up/