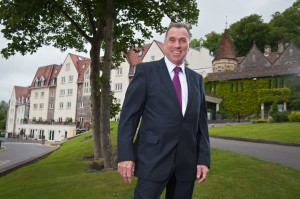 Congresbury's four-star boutique-style hotel, DoubleTree by Hilton, Cadbury House – together with its health club and spa – have been rated among the UK's "brightest" businesses in research compiled with the help of NESTA, the innovation agency, which identified fast growing companies, and business information specialist Dun & Bradstreet (D&B) which verified the information.
It follows an investment of more than £20m to transform the former country club into a venue ideal for weddings, private parties, business events, spa breaks or fine dining – a Marco Pierre White Steakhouse Bar & Grill was also opened there October last year.
Colin Badcock, general manager said: "The past few years have seen something of a transformation. We employ 250 people, many of whom live locally and the business also employs the services of many local suppliers making it an integral part of the local / regional economy.
"Joining the DoubleTree by Hilton franchise has seen the hotel attract more tourists to the area including those flying to Bristol Airport.
"It has also raised the bar in terms of the standard of hotels visitors to the region can now expect and will mean other operators having to emulate the high level of accommodation and service now available at Cadbury House."
Pictured: Colin Badcock, general manager at DoubleTree by Hilton, Cadbury House