The search is on for the best cider orchard in the West with apple growers being encouraged to compete for the silver medal awarded annually by the Royal Bath and West Show.
This year's contest is expected to be tougher than ever as the number and extent of orchards planted to produce cider apples in England continues to increase.
The latest survey, in 2012, shows an 8% jump to 7,178 hectares, with growth concentrated on modern bush orchards for the commercial cider market.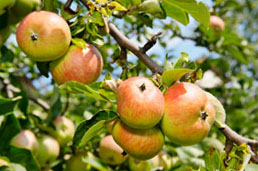 But at the same time older, standard cider orchards are being brought back into production, many of them by specialist contractors, in response to an encouraging upsurge in interest in making and drinking more traditional, artisan types of cider.
Bob Chaplin, chief steward of the Royal Bath and West's orchards and cider section, which organises the best orchard competition, said: "Wherever you look in the West Country at present, you can see new orchards being planted or old orchards being given a new lease of life.
"Standards of orcharding are probably higher now than they have been for many years, and we have hundreds of outstanding examples of that across the length and breadth of the West Country."
Entries are welcome from commercial cider growers with a modern orchards supplying one of the big cider makers and farmhouse cider-makers with traditional varieties, as well as the growing band of small-scale orchard owners with a passion for cider and cider apples.
Orchard owners not among the winners will be certain to learn a lot from the contest's vastly-experienced judges and the feed-back they will provide, said Mr Chaplin.
"The more entries we get, the more the competition can achieve in celebrating the cider orchards we've got, and raising standards even higher for the future."
The competition is open to cider orchards of any size throughout the country. Judges take into account tree health, apple crops and grazing (where appropriate), tidiness, standard of pruning and environment.
The competition will be judged in May.
Entries can be made online at www.bathandwest.com or by contacting the showground on 01749 822200.