Bristol's pioneering Watershed cinema and media centre has revealed ambitious expansion plans that would add four new floors above the existing building and create workspace for more than 100 creative entrepreneurs.
Under the scheme, pictured, the Harbourside building will increase in size by nearly half from 4,400 sq m to 6,360 sq m.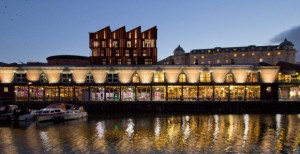 The planned re-development will house the multi award-winning Pervasive Media Studio, now housed on the first floor of the existing building, along with new incubation and grow-on studios.
It will also allow Watershed to add another cinema screen – taking the total to four – with additional flexible event spaces – taking its total to five – and a café and bar.
Watershed said the plan aimed help to sustain the growth of new talent and ideas for which it has become synonymous since opening in 1982 Britain's first media centre.
It has since become a catalyst and testbed for innovation in arts, culture and technology – bringing together creative talent with leading-edge technology to forge world-beating ideas, many of which have won major international awards. 
Watershed creative director and CEO Clare Reddington said: "Watershed's expansion is a project driven by the why rather than what we will do. It is about fulfilling increasing demand from people who want to visit, work and co-locate with us.
"It is about celebrating the new ideas that are developed under our roof and giving them increased visibility in the heart of the city. It is about ensuring our building is the most welcoming and inclusive space it can be. A bigger shed is a bigger home for creativity and will be a powerful celebration of Bristol's flourishing cluster.
"Our ambitious aims for ensuring we improve the environmental sustainability of the whole venue are at the heart of our plans, our new spaces will improve access and accessibility through extending our ground floor street front presence with improved physical access to the upper floors of the building.
"We will also improve our toilets and facilities including for people who are disabled and young children plus the introduction of gender-neutral facilities."
Watershed has submitted a pre-app to Bristol City Council – a method of asking it for formal advice before it makes a full planning application.
The spokesperson said the plan would continue Watershed's "journey of leadership and stewardship" and meet the increasing demand for its offer.
"We are really pleased to share our ambitious vision for physical expansion that will deliver improved environmental sustainability and financial security for years to come," they said.
"With the submission of the pre-app we begin a period of discussion and exploration with stakeholders, public, artists, industry, neighbours and partners. This will test our thinking and help us to further develop our plans.
"We expect this period of exploration to run until March 2019 and, following a period of evaluation, we will publish the findings from these discussions and formulate a timetable for progression of our ambitions."
Over the past 20 years Watershed has continually grown, building a reputation for inclusive talent development, diverse cultural cinema, and innovation. Over the two decades, its cinema audiences have grown from 85,000 to 170,000 while the range of films it screens has diversified from 33 countries to 52. It has also expanded the number of artists it works with each year from 50 to over 150 and staffing has also grown to 101.
That growth has been enabled by embracing digital technologies, the building of Cinema Three, and the opening of the Pervasive Media Studio.
Watershed will be hosting a series of open forums as part of its public programme and we will be meeting with interested groups and stakeholders.  The will be on January 10 at 6pm in Pervasive Media Studio and is open to everyone – click here to book a place.