Bristol-headquartered national law firm VWV has strengthened its already leading position in the education sector by acquiring strategy consultancy Cairneagle.
VWV said the move would allow both firms to better support clients to determine their strategic direction, giving wider choice, insight and access to a broad range of specialisms.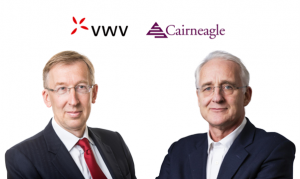 London-based Cairneagle, a fast-growing, multi award-winning business that operates globally, was recognised as EducationInvestors' 'Strategy Consultancy of the year' for the fourth time in 2021.
It will keep its name under VWV's ownership and will become part of the VWV (formerly Veale Wasbrough Vizards) group of subsidiary companies which includes human resources consultancy Narrow Quay HR and VWV Plus, which has developed online tools to promote and support the compliance and assurance requirements of education providers and other regulated businesses.
Cairneagle will also remain in its office in London's West End while its partners will continue to work exclusively for, and are retaining equity in, the new company.
VWV, which employs around 470 people across its offices in Bristol, London, Watford and Birmingham, boasts probably the most extensive combined list of school and university clients of any UK law firm.
VWV managing partner Simon Heald, pictured, left, with Cairneagle managing partner Rupert Barclay, said: "We are delighted to be welcoming the Cairneagle team to the VWV 'family', having worked with them on joint projects for many years.
"This collaboration enhances both businesses, helping us to better support our clients in the education sector and its supporting ecosystem, where a deep expertise and understanding of the regulatory environment, challenges and growth opportunities gives us and our clients a competitive edge.
"Beyond education, there are many opportunities for developing and diversifying our broader practice and sectors as well as our London location and international profile."
Cairneagle managing partner Rupert Barclay added: "We have long admired the reputation and in depth sector expertise of education colleagues at VWV.
"For Cairneagle, it is about moving to the next stage of growth with a firm with a similar entrepreneurial spirit as ours.
"The investment, synergy and shared infrastructure that this collaboration brings will benefit our clients, enabling us to meet their needs even better, and our people, ensuring we continue to grow, diversify and rise to new challenges.
"This is the beginning of a very exciting chapter for Cairneagle together with VWV."