Bristol's start-ups and scale-ups have bucked the national trend over the past three months by attracting the lion's share of venture capital investments made in the city, according to new research into the UK funding market.
KPMG's Venture Pulse survey, published yesterday, shows that more than 70% of deals in the city during the second quarter were angel or early-stage venture capital (VC) investments. The national picture shows investors increasingly looking to back larger businesses.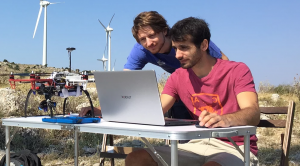 KPMG transactions partner in Bristol, Kay Drury, described the trend as really promising as it reflected the city's strong business ecosystem and support network for smaller tech and creative firms.
"I believe it's indicative of the quality of earlier stage businesses in our region. Clearly the investment the Bristol community has made into cultivating and supporting start-ups and scale-ups is paying off," she said.
"We've also seen a real mix of technology businesses attracting investment in Bristol, but also energy equipment and media. This differs from the national picture, where AI drew a significant amount of attention from investors."
Bristol companies attracting investment in the second quarter included:
Perceptual Robotics, pictured above, which has developed the Dhalion, an intelligent Unmanned Aerial Vehicle (UAV)
that provides wind turbine inspection engineers with a new, cost-effective inspection tool that increases quality, while minimising inspection time and health and safety risks. It can be used by turbine owners to maintain optimal performance at a reduced cost.
iCOMAT, a fledgling firm behind a world-first composites manufacturing process that could revolutionise the way aircraft and vehicles are made by placing carbon fibre tapes along curved – rather than straight – paths. With weight reductions of up to 30% compared to traditional straight fibre composites, cost and productivity have been improved as fewer raw materials have been used.
Seven Seas Films. Set up in 2016 by writer Dan Sefton and executive producer Simon Lupton.  Driven by a passion for great stories, the company is committed to developing and producing high-quality scripted drama and comedy.

Coull, a disruptive online video advertising agency that creates lucrative new revenue streams for publishers and new opportunities for advertisers. It allows video publishers to monetise their content by connecting viewers with bespoke advertisers.

Bot-Hive. The company makes it easy for small and medium-sized businesses buy robots that can increase their efficiency.
Embley Energy was founded in 1997 to transform the world's understanding of what wave energy could do for our planet.
Nationally, more than $2.5bn (£2bn) of Venture Capital (VC) was invested into UK start-ups over the past three months, with the bulk of funds spent on later stage deals with larger scale-up businesses.
The figures, compiled by market data firm Pitchbook, found that over the first six months of the year, VC investment into the UK rose by 37% to $5.5bn (£4.4bn) compared to 2018.
However, investment levels for the second quarter were down by 14% on the first ($2.96bn/£2.4bn). Deal volume for the quarter was also down with 279 deals completed during the second quarter compared to 324 in quarter one.
Bristol's second-quarter performance contrasts with the national picture, which shows investors pulling back the pace of last year, seeking instead to invest their cash into companies deemed 'less risky'.
This continues a national trend that started in late 2017.  But where investors have been tempted to place their bets on start-ups this year, deal sizes were up – with 2019 figures suggesting seed rounds have doubled in size from 2018 levels.