TravelLocal, the specialist Bristol firm that connects travellers with local experts in destinations around the world, is aiming to build itself into a global brand after receiving venture capital funding.
The firm was launched in 2012 to empower travellers to create their own tailored holidays – a segment of the travel industry that is growing rapidly.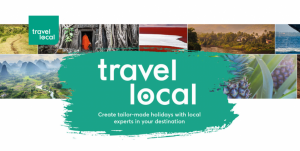 The funding from Gresham House Ventures, a provider of capital to high-growth entrepreneurial businesses, will enable TravelLocal to vastly increase its market share and expand internationally. It follows a significant investment from Active Private Equity last year.
Gresham House said it was especially attracted by TravelLocal's exceptional client feedback – with a 'net promoter score' of more than 80 – and the global reach of the brand which offers travellers a choice of 53 destinations.
The business has focused its marketing activities on UK-based customers and Gresham said there was significant scope to increase its international presence with additional funding.
While financial details of the deal have not been disclosed, Gresham House Ventures traditionally invests equity of up to £5m in growth businesses, supporting founders with bold ambitions for the future, while providing transformational capital and expertise to accelerate business potential. TravelLocal was advised on the investment by the Bristol head office of national law firm TLT.
TravelLocal was founded by Tom Stapleton, Huw Owen and Mark Hudson and predominantly operates in the long-haul, multi-destination holiday market, focusing on private itineraries for travellers, who tend to be aged over 50 and attracted by authentic, experiential breaks.
This segment of the market is expected to hit £3.9bn this year in the UK alone, while the US market is estimated to be worth more than £6bn. 
TravelLocal managing director Tom Stapleton, pictured, said: "We are in an exciting period of growth at TravelLocal and are thrilled to have secured this additional investment from Gresham House Ventures, alongside Active Partners.
"We're proud of the global marketplace and brand we have created and are excited about utilising this funding to further accelerate our growth."
Gresham House Ventures associate director Tom Makey said: "TravelLocal is at a pivotal point in its growth journey as it looks to increase market share and expand internationally.
"The travel space, like many sectors, is experiencing significant change and this managed marketplace and platform demonstrates how technology is being used to facilitate a better and more intuitive experience for travellers."
The TLT team was led by corporate partner Jon Gill, national lead for TLT's fast-growth team. He was supported by corporate solicitor Matthew Howells and legal assistant Rachel Kelly, alongside specialist tax legal director Mark Braude.
Tom Stapleton added: "We are thrilled that TLT worked with us to secure this additional investment from Gresham House Ventures alongside our existing lead investor Active Private Equity. Jon and the team worked collaboratively and effectively with the existing and incoming investors to create a platform for a successful partnership."
Jon Gill said: "The South West is a very active hub for fast-growth tech-based businesses, many of which are looking for funding to support their global expansion plans. This was an intricate deal that involved a careful balancing of interests.
"It demonstrates the continued appetite from investors to fund and collaborate with the UK's most interesting high-growth companies, in particular from venture capital trusts.
"The travel technology vertical is receiving significant amounts of investment at present, and TravelLocal is a great example of a South West-founded business that is scaling-up rapidly to disrupt an existing market segment. We're excited about their ambitious growth plans and look forward to working with them on their continued journey."