West of England businesses with ambitious growth plans will be able to get grant funding and relevant, high-quality support and training under a new programme launched by UWE Bristol, NatWest and regional law firm Foot Anstey.
S4G (Scale Up 4 Growth) is open to businesses in any sector that wants to scale up and aims to address the challenges they face.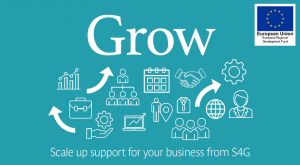 Grants of between £10,000 to £40,000 are available to cover 37.5% of the cost of any growth project.
Meanwhile, leadership and business experts from UWE along with legal and finance professionals from Foot Anstey and NatWest will, from January, conduct a series of fully funded workshops and provide targeted support through one-to-one sessions.
These will help businesses address key issues such as how to increase leadership capacity, finding a talented workforce, increasing sales, expanding infrastructure and accessing finance.
S4G is aimed at small or medium-sized enterprises based in Bristol, Bath & North East Somerset, North Somerset or South Gloucestershire.
Robin Halpenny, who leads the S4G programme at UWE, said: "S4G is an exciting and unique offering for businesses as it is rare to find a scheme that offers one-to-one sessions from experts combined with workshops, as well as the option to get funding in order to grow."
UWE pro vice-chancellor for research and enterprise Prof Martin Boddy added: "The scheme aims to stimulate the regional economy by helping successful, fast-growth companies in the West of England make that next step up, to realise their full potential and overcome the barriers to getting on to that next rung of the ladder in terms of growth."
NatWest South West director of commercial banking Matt Hatcher said S4G was a perfect fit with the development of bank's scale-up proposition.  
NatWest already runs the largest fully funded accelerator programme in the world and over the past three years more than 5,000 entrepreneurs have been supported by one of its 12 regional Entrepreneur Accelerators to grow and scale-up their businesses, including in Bristol.
"The partnership allows us to reach more businesses across the region so we can support them with the funding and sector specific help then need to grow their business," he added.
Foot Anstey partner Nathan Peacey, who is based in its Bristol office, said the firm been on its own "incredible growth journey" in recent years so it understood the challenges and opportunities that businesses faced.
"Our team can provide insights and the right level of legal expertise across a whole range of areas to businesses when they need it," he said.
S4G runs until 2021. For more information or to apply to the scheme, visit www.scaleup4growth.co.uk