More than 70 businesses and charities – including some of the city's most innovative small firms – have been supported through the coronavirus crisis by a dedicated University of Bristol internship programme.
The Covid-19 SME Internship Fund, which totalled more than £100,000, opened at the height of the pandemic in April with the aim of supporting charities, social enterprises and start-ups to navigate the unprecedented challenges.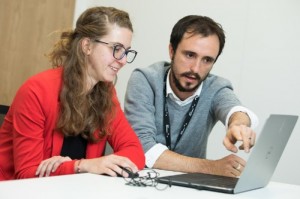 The fund received more than 2,600 applications from Bristol businesses and charities, students and recent graduates. Some 100 internships were fully funded by the scheme, which is run by the university's careers service.
Organisations had to demonstrate their response to coronavirus-related challenges, how their core activity will benefit from an internship and their intent to retain interns on a permanent basis.
Among the Bristol businesses taking part was GapSquare, the innovative firm that has developed software for pay transparency, gender and ethnicity pay gap analysis.
Its interns, Bristol graduate Robert Tunstall and final-year Kyle Pidgeon, helped it launch a free dashboard, which uses research from eight leading institutions – including the ONS, McKinsey, and Gartner – so businesses can compare themselves with different industries through the interactive platform, where they can also track changes to operations since the start of the pandemic.
Robert, who graduated this summer with a Masters in Chemistry, said: "I would wholeheartedly recommend undertaking an internship as this allowed me my first experience outside of science in a more business-orientated environment – something I thoroughly enjoyed!
"It gave me the opportunity to apply the skills I'd gained from my degree to solving real-world problems, giving me a true sense of fulfilment."
Gapsquare senior marketing manager Hazel Lush added: "Robert and Kyle have risen to the challenge of a very independent project about a very important theme. 

"The level of research and insight involved is something we couldn't have achieved without the support from the University of Bristol and the dedication of its students Robert and Kyle."
Other Bristol firms involved included vertical farming pioneer LettUs Grow, robotics firm Indus Four, Learning with Parents, which helps parents get engaged with their children's schooling, creative software platform Stornaway, and magazine and website Bristol 24/7.
Director of the University of Bristol careers service, Stuart Johnson, said: "We know the past six months have proven especially challenging for businesses in our community, and for our students who find themselves in the midst of huge economic uncertainty.
"Our fund has not only helped businesses step up to meet the challenges posed by the pandemic but has also offered students valuable work experience where internships had previously been cancelled.
"The huge number of applications we received, and the overwhelmingly positive feedback we had, shows just how vital our support has been for our students and fellow local organisations during these difficult times."