Trendy street food outlet Boxpark has vowed to work with Bristol's indie food and drink suppliers to ensure its new venue in the city showcases the vibrancy of its eating-out culture.
Boxpark's BoxHall concept, which it will develop in the historic O&M Sheds on Welsh Back, will have space for 10 independent restaurants, street food traders and suppliers, as well as regular guest pop-ups.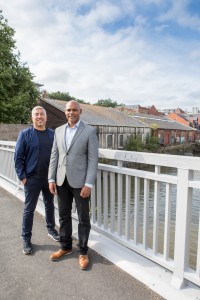 It will also have outside seating terraces overlooking the historic Floating Harbour.
Scheduled to open next summer, the food hall will include some of Bristol's most acclaimed chefs and offer an all-day social dining experience including food, drinks and a complementary programme of events, all under one roof.
The community-led events schedule will provide a curated mix of live music, local art shows, screenings and gaming experiences.
Boxpark opened its first venue 10 years ago in East London's Shoreditch area, where it used shipping containers to house a range of street food restaurants, bars and indie shops, creating what it called 'the world's first pop-up mall'.
It has since opened outlets at Wembley in North London and Croydon in the South of the city.
For BoxHall – its first venture outside the capital – it has teamed up with Worcestershire-based property group Cordwell to create what it is calling "a vibrant and exciting waterside destination, delivering a premium, unique food and beverage offer not experienced elsewhere in the city".
Mayor of Bristol Marvin Rees visited the 20,000 sq ft venue after it gained its licence to see how it will transform the buildings while also generating more than 100 jobs.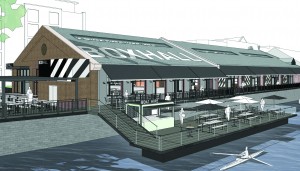 Mayor Rees, pictured with Boxpark founder and CEO Roger Wade in front of the O&M Sheds, added: "Bristol's O&M Sheds are one of the last remaining undeveloped buildings from the city's historic industrial dockyard.
"BoxHall looks set to be an exciting, regenerated space that will create new jobs as we recover from the Covid-19 pandemic.
"This can be a real boost for Bristol's economy that showcases our thriving food and drink offer and helps to make the harbourside fit for the future."
Mr Wade added: "This is both our first venture outside London and the first time debuting the BoxHall concept.
"We're highly committed to local community and want to create a rich variety of Bristol's best food, beer and music within a stunning interior that's sensitive to the historical value of the site."