Ultraleap, the Bristol-based hand-tracking software pioneer firm, has made two key appointments – with Rowena Innocent joining in the newly created role of senior vice president (SVP) of engineering and Charlotte Laband as General Counsel.
The appointments come as Ultraleap looks to scale its world-leading hand tracking and mid-air haptics technologies for a rapidly growing customer base, including use in augmented reality (AR) and virtual reality (VR) products – the so-called metaverse – as well as digital signage, kiosks, automotive, industrial automation, consumer electronics and entertainment – all major growth markets.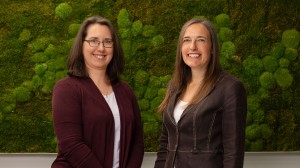 A spin-out from the University of Bristol, it employs a team of more than 150 people across Europe, North America and Asia.
Rowena, pictured, right, with Charlotte Laband, brings highly relevant experience to Ultraleap, having previously managed a team of 300 engineers across the UK, EU, US and Asia.
She has 30 years' experience at UK high-tech instrument makers Spectris and Malvern Panalytical and US giant General Electric and her teams have spanned early research through to product delivery and after-sales support across a broad range of disciplines, including mechanical, electrical, software and machine learning.
She also holds an Aegis Professorship from the University of Bristol, working across the Faculty of Science as Honorary Professor of Technology, Innovation and Equality, where she has a broad remit to share her industry expertise through coaching and mentorship.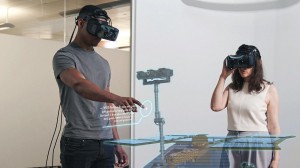 She is also a Trustee for NMITE (New Model Institute for Technology and Engineering), an initiative to respond to the UK's shortage of engineers by transforming engineering education. 
Rowena, who will report to Ultraleap CEO Tom Carter, will also oversee the continual growth and development of the firm's engineering team.
Tom said: "Rowena's breadth of experience complements the range of technical disciplines we have at Ultraleap.
"She will be the perfect mix of fitting right in and bringing new approaches – I am excited for her to get started."
Rowena added: "It's not hard to see why Ultraleap would be an attractive opportunity for anyone.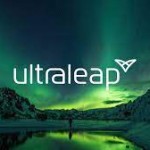 "An exciting UK company operating globally, successful but still only at the beginning of what it can achieve, with fascinating technology that will deliver real impact – but what really got me was the people. From my first few conversations, I knew this was the place for me."
"Going from start-up, to scale-up to a profit-generating company are big milestones for a company and I'm looking forward to working with the team on this journey." 
Both Rowena and Charlotte have joined Ultraleap's executive team. Charlotte joined Ultraleap two-and-a-half years ago and has guided it through major company milestones including its £60m series D fundraising last November and several of its largest commercial agreements.
Ultraleap's technology uses ultrasound to create tactile sensations in mid-air. Sound waves from a collection of small ultrasonic speakers are focused onto the user's hands, causing the skin to vibrate and elicit the sensation of touch.