Fast-growing law firm Temple Bright has recruited two more partners – one in its flagship Bristol office and another in its recently-opened London operation.
Kit Harvey, a construction specialist who has worked for City firms Nabarro and RPC, and was a partner at Clarke Willmott, is the Bristol starter, while in London the commercial contracts specialist Sam Elworthy joins from City firm Travers Smith.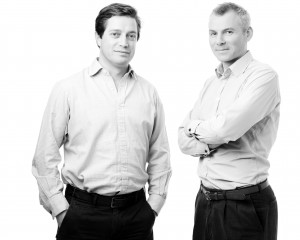 Harvey becomes the second member of Temple Bright's construction law team, extending its reach in a niche it has developed to serve property developers, investors, contractors and consultants.
Pictured: Sam Elworthy, left, and Kit Harvey
He has particular expertise in the sustainability and low carbon arena where so many South West businesses excel.
He said: "It's great to be joining the team here in Bristol. There's a real appetite in the market for what Temple Bright offers and a buzz around the firm because of its rapid growth and the profile of its lawyers. Of course there's a lot of excitement generally here in the city – we've got a new mayor with a progressive, sustainable agenda, who wants to boost the city's national standing. I'm joining a firm that's in the spirit of Bristol in 2013 – out on the cutting edge and shaking things up."
Sam Elworthy sees good prospects at Temple Bright's newly-opened London operation in the creative and tech hub at Old Street.
"This is a chance for me to get in at the ground floor with a firm whose fresh proposition has already had a big impact," he said. "As a London lawyer I'm in no doubt that the Temple Bright model will appeal strongly to clients based in the capital and beyond. It's hard to fault the promise of attention exclusively from partners from a top tier background; you're getting the same senior person from start to finish, but for a fraction of the price."
Sam has advised big-name corporates across a broad range of sectors and has particular expertise in media work having spent nine months working in-house at a major UK TV broadcaster in 2010.
Temple Bright co-founder Tim Summers said: "It's fantastic to welcome Kit and Sam into the fold. They will add new dimensions to the firm at a time when our horizons are expanding fast."
Temple Bright is now three years old. The firm calls itself a chambers practice – a solicitors' firm that operates like a barristers' chambers. Temple Bright's lawyers are all experienced specialists who advise personally rather than delegating to juniors. The practice uses cloud technologies to increase efficiency and reduce costs for the SMEs and corporates it serves.
Summers added: "Things are moving quickly for Temple Bright. We are now up to sixteen partners and embedded in two important commercial centres. This shows how there is room in the legal services market for innovative new entrants. However things shape up in the UK economy and the wider legal market this year, for us 2013 looks full of promise."