A stretch of unused dual carriageway near Bristol promoted to film and TV production companies as 'the road to nowhere' has played a starring role in BBC One hospital drama Casualty's explosive return to the city.
The 400m section of road was built in 1974 as part of a planned bypass for Yate. However, the scheme was abandoned – giving South Gloucestershire Council a unique asset that it can market to filmmakers as a stand-in for a real road.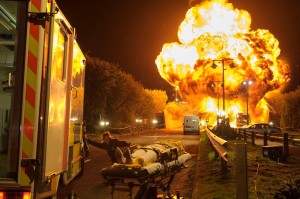 It has been used in Broadchurch, Skins, CBBC and a number of independent productions – and will now appear tomorrow in one of the biggest and most expensive episodes of Casualty ever made.
The long-running BBC medical drama will feature a catastrophic motorway explosion which is set to leave at least one life hanging in the balance. The dramatic crash scene features a petrol tanker turning on its side with disastrous consequences for the paramedic crew of the Holby Emergency Department.
The explosion stunt was filmed in May after the 'road to nowhere' was offered to Casualty by South Gloucestershire Council. 
Bristol Film Office – part of Bristol City Council – also assisted Casualty's producers find locations around the city for tomorrow's episode.
Scenes were shot at Flax Bourton Mortuary, Carolina House in Stokes Croft and on a low-loader driven along the M32 in the Newfoundland Road area.
Bristol Film Office manager Natalie Moore said: "Bristol was home to Casualty for 25 years and this longstanding connection makes it a production that remains close to the city's heart. It was great to welcome the show back earlier this year for the making of these dramatic scenes, expertly executed by the show's skilled cast and crew."

South Gloucestershire Council's film office describes 'the road to nowhere' as offering "real flexibility", adding "It can be shot as a dual carriageway, or as a single lane country road. This site offers a filmmaker complete control over location without the need for a road closure."
Tomorrow's 'explosive' episode of Casualty is on BBC One at 9.10pm.