A snapshot of Bristol's start-up and scale-up ecosystem has been produced in an easy-to-use format to show where high-growth businesses can find essential support, information and advice.
The innovative Growth Map – illustrated like a London Tube map and thought to be the UK's first of its kind – has been launched by Bristol's Engine Shed enterprise hub and the West of England Combined Authority through its Growth Hub.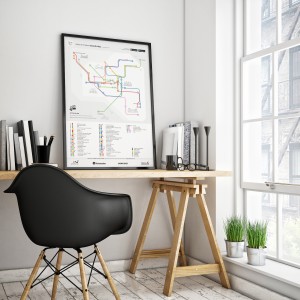 Along with its accompanying Augmented Reality (AR) app built by Bath-based developers Rocketmakers, the map highlights organisations that support founders, employees, network builders, newcomers, and interested people working in and with start-up and scale up companies.
When held over the physical map, the AR app will help users access more information about the organisations, including websites and social media links and contact information, and discover how connected and collaborative they are. 
Among the 50 organisations on the map are universities, in Bristol and UWE, co-working spaces such as DeskLodge and Origin Workspace, support bodies including the Women's Tech Hub and Business West, and media outlets including Bristol Business News and its sister website Bath Business News.
Engine Shed has identified these as the most engaged and beneficial to start-up creation and scale-up growth in the region. 
The data is organised by category to help users easily find the support they are looking for. These categories are:
Incubator/Accelerator – An organisation that provides a combination of people, business development processes and infrastructure to support a select group of members and/or tenants.
News/Events – An organisation that offers a newsletter and/or events open to the public.
Coworking plus – A provider of office or desk space who actively provides broader support to enable business growth.
Networks – An organisation which exists partly or wholly to facilitate connections between members or participants, and beyond.
Investment – An organisation that offers financial investment or can directly facilitate financial investment for companies and founders.
Social Impact – An organisation that supports others to work towards social goals and impact.
The Growth Map was launched at Engine Shed by its associate director and former West of England scale up enabler Briony Phillips during her talk at a Tech South West Comes to Bristol event, and highlighted at the following Tech Nation, where she chaired a panel on themes such as inclusion and organisational culture with local business leaders.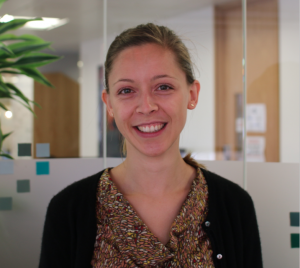 Briony, pictured, hopes the map will be updated semi-annually, and Engine Shed is actively seeking sponsorship to fund interactive versions to be distributed around the region. 
Firms are encouraged to print and frame a copy in their office, to download the AR app, and to sponsor a copy of the Growth Map on a university campus or at a train station.
Briony said: "We're really excited to share a brand-new map of the most mentioned support for both seasoned and new entrepreneurs in the region of Bristol and Bath. 
"The map is inspired by an example from Sacramento and is, as far as we know, the first version for a UK region. We hope it will enable people across the region to find support, information and events that can help them as they start, scale and drive their business forwards.
"With the help of the AR app, created by Rocketmakers, we hope that the next generation of employees, researchers and visitors will use this tool to find their way around and to discover the great collaborations and projects that are happening across the region – I'm only sorry we couldn't fit more pins on!"
West of England Mayor Tim Bowles added: "This new Growth Map supported through the West of England Combined Authority and Local Enterprise Partnership will be a great add-on to our Growth Hub website, offering businesses more information, support and guidance to access finance and growth opportunities.
"We are an economically successful region where businesses start, grow and thrive in high numbers. As Mayor, it is one of my priorities to ensure that businesses get the help and support they need to continue to grow and prosper across the region."
For more information on the extensive support available in the West of England, please visit The West of England Growth Hub and the Scale Up Generator, which features a map of over 400 support services for scaling businesses. The new Growth Map is available to download from www.scaleupgenerator.co.uk and the app is available in android and apple app stores.
The Growth Hub is hosted by the West of England Combined Authority and Local Enterprise Partnership and funded by the Department for Business, Energy and Industrial Strategy.