Rob Law, the Bristol-based inventor of child's ride-on suitcase Trunki, heads up the M4 next month to be keynote speaker at this year's Business Show Swindon
The entrepreneur, innovator and 'dragon-slayer' – he was famously turned down by Dragons' Den – will speak about the setbacks and learnings of his start-up story, how leaders can get the best out of a team and the benefits of reshoring.
Rob, pictured, launched his original ride-on suitcase product in 2006. His Bristol-based company Magmatic now produces a range of children's products, selling them in 2,500 stores across the UK, as well as 97 countries overseas.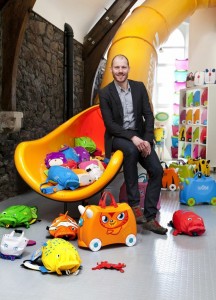 Two years ago Magmatic acquired a factory in Plymouth to bring much of its manufacturing back to the UK from China. Rob received an MBE for services to business in 2011.
The Business Show Swindon, hosted by Business West and once again staged at STEAM, the town's railway museum, is on May 15.
Free to attend, it is again sponsored by Swindon IT firm Excalibur and will run from 9am – 4pm. With an expected attendance of more than 800 powerful and influential businesses, including many from the Bristol area, the show remains the highlight of the business calendar in Swindon and the networking event of the year in the town.
It has also unveiled an impressive seminar line up spanning marketing, export, innovation and technology.
Excalibur will stage two technology seminars with speakers from Vodafone and Microsoft – 'Adaptable, Flexible, Efficient – The Future of the Workplace' and 'Using Technology to Grow – What's available to you?' The seminars will provide informative sessions covering topics such as VoIP, cloud, data security and flexible working.
Chartered marketer and business coach Nick Marsh will help businesses ensure their marketing activities are customer focused and gain competitive advantage at his strategic marketing seminar.
'The Only Way is Exports' seminar by UK Trade & Investment and Business West will run mid-morning and bring to light the extensive support available to West companies to tackle the challenges, barriers and opportunities to be successful in doing business abroad.
In the afternoon social media expert and qualified coach Dev Chakraborty will share his insider top tips, explore how social media can help generate sales and show delegates how to exploit this advantageous marketing channel.
While the ever-popular speed networking sessions have sold out, the show will still provide many networking opportunities.
The LinkedIn Lounge provides an opportunity to make new business contacts and extend online connections, offline.
The last few stands remain available with prices starting at £300 plus VAT.
Director of Business West's Swindon & Wiltshire Initiative Ian Larrard said: "I'm confident that the programme of events we have put together will create great opportunities for businesses as well as provide them with important insights and ideas of how to achieve and sustain growth in 2014.
"Both the exhibition stands and speed networking sessions are great for establishing new relationships and will bring home the fact that Swindon is an excellent, resourceful place to do business."
To register to attend, book an exhibition stand or secure a seat in a seminar, go to www.businessshowswindon.co.uk