Magmatic, the Bristol-based children's travel products business behind the Trunki, kids' ride-on suitcase, has been sold to an international group of baby, juvenile and maternity brands in a deal handled by city-based national law firm Burges Salmon.
Trunki inventor Rob Law was famously rejected by the panel on the BBC's Dragons' Den in 2006 when he pitched for a £100,000 investment.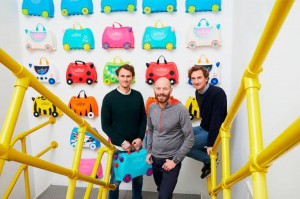 He has since sold more than 5m Trunkis – despite it being much derided by the dragons – and introduced a range of other children's products such as scooters, neck pillows and swim bags designed to make life less stressful when travelling with children.

Pictured: Trunki inventor Rob Law, centre, flanked by Giancarlo and Riccardo Bruni of Heroes
Buyer Heroes, which has acquired a portfolio of 35 brands in less than three years, paid a reported £12m-plus for Magmatic, which grew its turnover by 68% to £6.4m in 2021.
UK-headquartered Heroes, which employs 120 people in its bases in London, Barcelona, Madrid, Hong Kong and Colorado, plans to support Trunki's growth and will invest heavily in the North American market along with further expansion in Europe.
Law is to stay on as general manager of Trunki to help it navigate to the next level. All 60 Magmatic employees are also being taken on by Heroes, which was launched by brothers Riccardo, Giancarlo and Alessio Bruni with the intention of building it into a "next-generation consumer brands platform".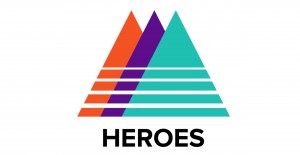 It has already acquired several maternity and children's brands, including the Boba baby carrier, Onco baby car mirror and the Baby Uma pram hooks.
Rob Law, who secured £3.9m from BGF in 2013 to expand Magmatic, said he couldn't be more excited for the next step in Trunk's journey
"It's been one hell of a rollercoaster ride, 5m suitcases sold, working with some amazing people. Trunki, the team and myself start our next adventure under new ownership after the successful sale to a new visionary player on the nursery block" he added.
He said Heroes had a really innovative approach to building a consumer product goods business.
"It became apparent after the first few discussions that Heroes was the right buyer for Trunki," he added.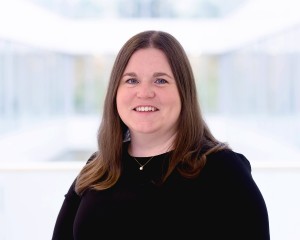 "The Bruni brothers' vision for the brand was far more ambitious and creative than what other buyers presented."
Alessio and Riccardo Bruni said: "The acquisition will further strengthen our core focus in the baby and children category and gives us further expansion into retails and worldwide distribution.
"Working closely with a renowned brand like Trunki is the next chapter in an exciting journey for us and sets the tone for what we hope to achieve with brands that will join the Heroes family in the future."
The Burges Salmon corporate team advising on the deal was led by senior associate Amy Carr, alongside partner Richard Spink, senior associates Neil Connor-McLaren and Shachi Nathdwarawala, and associate Chris Doherty.
Amy Carr, pictured, said: "We're really pleased to have advised Rob and the Trunki team on this milestone transaction.
"We helped BGF on its original investment into Trunki so it is particularly pleasing to have been involved in this next stage of Trunki's development. We wish Rob and the Heroes team every success in the next chapter of Trunki's journey."
Magmatic chairman Trevor Bell added: "We are very grateful to Amy, Richard and the rest of the Burges Salmon team for providing such great support on this significant step forward for Trunki.
"Heroes believed in our vision for the brand and future product development, and our UK manufacturing supply chain, whilst having the infrastructure to grow our US business. We are excited to have completed the deal."