Bristol city centre landmark office building Whitefriars has attracted three new occupiers since the start of the year following a major refurbishment.
The 145,000 sq ft, 11-storey building on Lewins Mead is one of the largest in the city centre. Agents are now marketing 36,000 sq ft of unoccupied space in the showpiece scheme.
Children and young people's cancer charity CLIC Sargent has consolidated its South West operation by relocating its regional office to a 8,038 sq ft suite on Whitefriars' fourth floor.
The charity, which previously occupied space in two office buildings at Abbey Wood Business Park, on Bristol's northern outskirts, has taken the space in Whitefriars on a new 10-year lease.
Also recently arrived are Research Media, part of academic journal group Emerald Publishing, which is relocating from Gloucester Road to a 5,126 sq ft suite on the seventh floor, and London-based Prysm Group, the UK's fastest-growing trade exhibition organiser, which has leased a 4,807 sq ft suite on the sixth floor.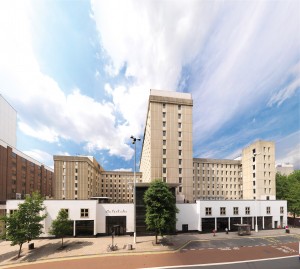 Whitefriars was refurbished and brought to the market last year on new rental terms by agents Alder King and JLL on behalf of owner, London-based private investment company Topland.
CLIC Sargent head of property and facilities Neil Buckland said: "The charity carefully considered whether we should remain in north Bristol or move into the city centre and eventually decided on the city centre as there was a wider range of options and more competitive deals available.
"Whitefriars is an excellent choice for us, with a wide range of facilities in the building and in the immediate neighbourhood."
Alder King office agency specialist Tom Dugay, who represented the charity in its search for new premises, said: "CLIC Sargent was our charity of the year in 2013 and it was a pleasure to support them both with our fund-raising and in finding new premises to take them forward."
Ben Ryan of Topland added: "We're delighted at the positive response to our new lettings strategy at Whitefriars, which is clearly appealing to businesses requiring well-located premises on flexible terms. These three deals alone total 18,000 sq ft let in the first quarter of 2014."
Alder King and JLL are marketing more than 36,000 sq ft of space in Whitefriars at £9 per sq ft, together with a capped service charge and in suites ranging from 1,814 sq ft to an entire floor of 19,010 sq ft – one of Bristol's largest available single floor plates.
The property also has on-site conference facilities, a cafe and gym with fitness facilities available exclusively to occupiers, and substantial secure on-site car parking.
Other occupies include international recruitment consultants Robert Half, NHS Shared Business Services and University Hospitals Bristol NHS Foundation Trust.