First Base, the property developer behind the restoration of the former Gardiner Haskins site in Old Market, has raised £6,000 for three Bristol charities after donating over £1 for every person taking part in the scheme's consultation process.
As well as submitting feedback on the proposals, visitors to the online process were asked which charity they wanted London-based First Base to support.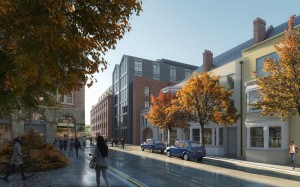 The innovative consultation process used digital channels to engage with typically hard to reach audiences.
The charities – 1625 Independent People, The Grand Appeal and Off the Record (OTR) – will now receive a donation based on the number of votes they received.
A record number of responses were submitted to the two public consultations for the £175m restoration and redevelopment of the Grade-II listed Soapworks building and its surroundings, pictured.
First Base plans, which were submitted to Bristol City council last month, include 140,000 sq ft of modern workspace, 166 new homes – including affordable housing – an apart-hotel, cafes and restaurants as well as open public realm.
The Give My View platform, developed in partnership with London-based market-leading UK prop-tech start-up Built-ID, consulted in both English and Somali.
Nearly 6,000 individual voters were consulted on the Soapworks development – significantly higher than the average for a development of this size.
First Base project director Lucinda Mitchell said: "We were overwhelmed with the level of engagement we had on the Give My View platform, which has allowed us to donate a significant sum of money to three local charities, each of which do invaluable work for young people in the South West – now more than ever.
"The high response rate reflected the local community's deep interest in the future of the Soapworks building and we worked hard to respond to everyone's feedback within our recent planning submission.
"Platforms like Built-ID are critical to the future of the property industry and even more so in these unprecedented times when it is unclear how long it'll be before people can attend in-person consultations again."
A number of changes were made to the scheme's original proposals following the consultations, including locally focused retail, affordable and family homes, new green and open space and a range of flexible spaces for independent businesses and freelancers.
Built-ID digital engagement strategist Emily Laverick added: "We were delighted to partner with First Base to devise and implement a digital engagement strategy that reduced the barriers to community engagement and allowed people to convey their priorities, concerns and ideas, often while they were on the move.
"Our bespoke Give My View platform has enabled an unprecedented level of feedback which First Base has used to better inform their planning application."
First Base's planning application will be determined by the city council over the coming months.
1625 Independent People helps young people between 16 and 25 at risk of becoming homeless or are already homeless, The Grand Appeal supports Bristol Children's Hospital by funding pioneering, life-saving equipment and research, while OTR is a mental health social movement by and for young people aged 11-25.