Innovative Bristol-based fintech firm Limber has unveiled a new version of its existing app – heralding a new direction for the company to stay ahead of changes in the way many people work.
Previously a means of matching workers such as chefs and bar staff with unfilled shifts in the hospitality sector, Limber's focus is now on creating the world's very first 'slashie co-operative'.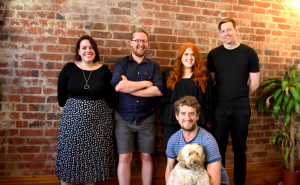 It wants its app to be a place where slashies – workers with more than one profession, such as accountant/mechanic/barista – can manage their finances, get paid and earn equity without the need to hire accountants, worry about Self-Assessment or set up a company.
The revised offering is, fundamentally, a micro business management app which helps slashies build a profile and online reputation which reflects their multi-faceted talents, giving them an easy tool to send their proposals, contracts and invoices to clients.
It also protects slashies when it comes to payment with a fast payment policy and mediation service for invoice disputes.
Income is combined into one simple and easy-to-understand payslip, taxes and National Insurance are taken care of and Limber even contributes towards a pension.
Limber co-founder and CEO Chris Sanderson said: "The slashie lifestyle is growing rapidly in the UK, with more and more people turning their backs on the outdated 9-5.
"Limber helps slashies build their ideal worklife by combining all their skills and interests.
"By earning a pension and receiving a payslip, we help people work in a more modern way which is sustainable and financially responsible.
"But what we're really excited about is that, for every penny people earn using Limber's invoicing tools, they'll earn shares in Limber.
"As everyone grows and develops their own businesses, their value will be combined and they'll each share ownership in the wider community. There is no limit to the amount of equity that we'll distribute so provided it gets big enough, a substantial percentage could end up in the hands of our users."
Founded in 2016, Limber originally set out to disrupt the outdated concept of a traditional career and help those wanting more freedom in the rapidly expanding gig economy to find work and manage their affairs simply in one place.
Chris added: "The idea was born out of my own impatience with the linear career.  I wanted more variety and was sick of the corporate treadmill. Limber is really just a reflection of that mood which I think is shared by lots of people."
The company, run by a team of six, has amassed a loyal, vibrant following creating a community now running in to the of tens of thousands.
"Limber is trying to do things differently. The number of freelance websites and gig economy firms has grown rapidly over recent years, but they tend to encourage short termism, ignore basic rights like the minimum wage, or result in a race to the bottom on fees as professionals outbid each other." Chris said.
"Limber is helping workers build something more sustainable which develops over time. With Limber you're encouraged to go out and win your own work because we think that's where the best work is.
"But using our app, you can pay into a pension, you get a digital payslip and you can earn shares in the company as the community grows. Limber is a place where people can build their new worklife, ethically and sustainably and feel supported on their journey."