A Bristol-based defence project aiming to revolutionise the way air products and technologies are developed for air combat in the future has earned two major awards for aerospace giant Rolls-Royce.
Project Orpheus, which is underway at Rolls-Royce's Filton plant, designed, built and run an innovative small engine concept, pictured, in under 18 months – nearly half the time and half the cost of a typical programme.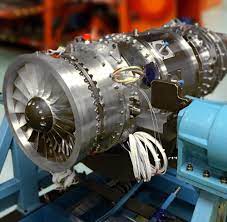 The project topped the Transformation Project of the Year category of the annual Association for Project Management (APM) Awards while Project Orpheus leader Alexander Darvill was named Project Professional of the Year.
Sponsored by RPC UK, the awards recognise the very best within the project profession – from project organisations, individuals and projects from across a broad range of sectors across the UK and internationally.
The Transformation Project of the Year Award, sponsored by QinetiQ, is presented to individual, team or organisation whose project demonstrates the most effective use of project management and the greatest benefits and outcomes to end users in projects providing transformational change, either culturally or organisationally
The judges praised Rolls-Royce for its radically different approach to trialling and demonstrating faster product development in the small engine market.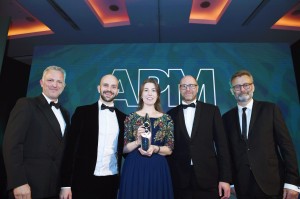 "The project succeeded in significantly reducing resource, time and cost and not only benefiting customers with quicker and cheaper supply, but also presenting a clear legacy for a new way of working across the organisation and possibly the industry at large", they said.
Rolls-Royce said the two-year project, which it described as a truly transformational, had exceeded its original goals with key innovations being shared across Rolls-Royce and UK industry.
Alexander Darvill, pictured above with the project team receiving their award from comedian Hugh Dennis and below receiving his award from APM chief executive Adam Boddison and Hugh Dennis, said "I am truly astonished to have won this award. I would like to thank the great team that worked on the project and the mentors who supported me and helped get me where I am today."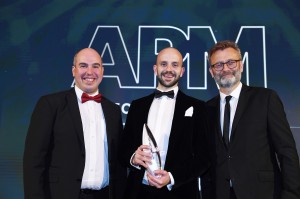 The Project Professional of the Year award is open to project, programme or portfolio managers and practitioners from all sectors.
Successful project professionals drive and lead the creation of an environment that makes things happen. They carefully balance technical and management skills while also juggling different views and perspectives, backgrounds and personalities. They progress and focus team performance to deliver benefits to their client and other stakeholders.
Judges were looking for project professionals who can demonstrate these skills in abundance to deliver significant project and/or programme benefits.
APM chief executive Prof Adam Boddison said: "I would like to congratulate Rolls-Royce on their success in winning these awards and for their outstanding achievements within the project profession and project delivery.
"Our awards are all about celebrating the outstanding successes of the project profession."