The £1.35m refurbishment of Bristol's iconic former HTV television studios has been completed, bringing a further 2,500 sq ft of creative workspace to the market.
Since refurbishment began in 2010, almost 20,000 sq ft has been upgraded in what is now known as Bath Road Studios to provide creative office space with facilities for occupiers including a spacious break-out area, an on-site Friska café and Pilates studio and a remodelled reception area.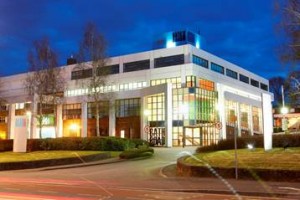 The transformation was commissioned by the landmark building's London-based owners Cube Real Estate to meet continued demand for small-scale, contemporary space in Bristol in line with the rise in the number of start-ups, particularly in creative sectors.
Almost 80% of the building has been let to businesses ranging from small firms to multinationals such as iconic sportswear brand Puma, which recently opened a showroom for retail buyers. Just 6,300 sq ft of the original 67,000 sq ft is now available in suites ranging from 300 sq ft to 5,500 sq ft.
As well as Puma and Friska, occupiers include ITV West Country, award-winning video production company Hurricane Media, pre and post production house Films@59, Microsoft partner Wattle and digital designers Colour & Thing.
The building is also home to The Set, an innovative workspace that operates as a membership club where like-minded businesses can network and share skills and ideas. Its collaborative base removes the isolation of working from home, while offering contemporary facilities.
Ruari Laidlaw of Cube Real Estate said: "We are really pleased to have completed this much-needed refurbishment project, which will now allow us to turn our attention to improving sustainability and green initiatives within the building.
"It also gives us an opportunity to work with existing tenants to further improve our offer so it is even more attractive to future occupiers."
Steve Lane, a senior surveyor at property consultants JLL, which is marketing the vacant space with Knight Frank, added: "We are seeing high demand from the media and creative sectors for schemes that offer smaller, quirkier space, rather than the more traditional office suites.
"Bristol is an obvious choice for start-ups and small to medium-sized enterprises (SMEs) looking for creative hubs outside the capital due to its good links to London and its creative community – hence more and more businesses are choosing to set up here."
Hurricane Media managing director Jon Mowat said: "Being in a building with such good facilities, and a broad range of other creative SMEs, has benefitted Hurricane enormously since we arrived here in February 2012.

"While it's a highly-creative and relaxed environment to work in, there's an air of professionalism that resonates throughout the building which is perfect for our brand's image and our ability to collaborate with other business-focussed creative companies."