Visit Bristol, the city's destination marketing organisation, has unveiled a Christmas-themed street art collaboration to promote the city as a cool place to visit during the festive season.
Eight local artists were commissioned by Bristol-based creative agency Stuff to contribute one panel each for the unique artwork as part of its MerryBristmas campaign.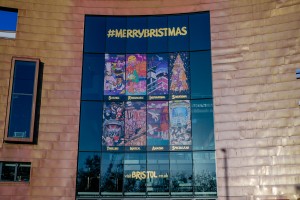 Each street art mural depicts an aspect of Christmas in Bristol with the first letter of each mural title spelling out BRISTMAS.
They include Buzzing bars and restaurants; Remarkable places to stay; Inspirational museums, Sensational shopping; Thrilling live entertainment; Magical markets; Amazing attractions and Spectacular celebrations.
The scenes will be used across Visit Bristol's campaign to promote short breaks and things to do in Bristol over the festive season. The completed work is also in place above the entrance to Colston Hall, pictured.
Artists taking part were Kid Crayon, Marta Zubieta, Elaine Carr, Andy Council, Cheo, Tim Ulewicz, Lucas Antics and Silent Hobo.
The final piece of the installation – created by Silent Hobo – was painted live on canvas at the Visit Bristol Christmas campaign launch at the Old Vic this week, pictured below, and has been donated to charity Caring in Bristol to sell at auction and raise funds for its work supporting vulnerable people experiencing homelessness.
Bristol City Centre Business Improvement District (BID) recently launched the pioneering 'TAP for Bristol' scheme, installing contactless donation points in the area for people to donate £3 to Caring in Bristol.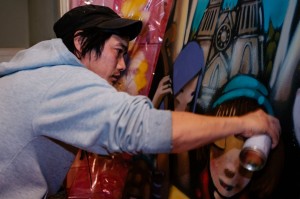 Silent Hobo's piece will raise funds for Caring in Bristol's Caring at Christmas project – a pop-up shelter in the city centre for up to 60 people a nigh. It also feeds more than 150 homeless and vulnerable people each day over Christmas and New Year. To bid for the piece online and support its work visit: https://www.jumblebee.co.uk/caringinbristol
Visit Bristol marketing manager Jon Chamberlain said: "It has been great to work with eight local artists on creating a set of murals to celebrate the incredible offer that Bristol has at this time of year. Magical markets combine with an enviable shopping offer to satisfy all gift-givers but add on fantastic entertainment and brilliant places to stay and Bristol is perfect for a festive short-break.
"We are also delighted to be working with Silent Hobo and Caring in Bristol to try to help some of the most vulnerable people in our city and help make homelessness history in Bristol."
Richard Spruce from Stuff added: "Following on from the success of last year's graffiti mural, we wanted to go bigger and better for 2019. With Visit Bristol securing an amazing location on the front of the Colston Hall, we set to work thinking how to make the most of it.
"The end result is a wonderfully colourful and creative piece of work, celebrating all that is great about Bristol at Christmas, viewed through the eyes of some of the city's leading graffiti artists."
Caring in Bristol director Ben Richardson added: "This Christmas we are working hard to inspire everyone in Bristol to help us make homelessness history. A donation of £21 could help pay for someone who is homeless to access shelter, food, medical care and support and we are incredibly excited about the impact this gift from Silent Hobo will have and how many people it will help. So bag yourself a piece of local art this Christmas and make change happen."