Bristol law firm Bond Pearce has been shortlisted in the Best Use of Technology category at this year's British Legal Awards.
Run in conjunction with Legal Week Magazine, the awards celebrate achievement, excellence and innovation in the legal industry.
Bond Pearce is shortlisted for a recent project which introduced a state-of-the-art IT system across its five offices, including upgrading all its core applications, in just six months.
All offices were able to preview the new environment prior to roll-out so the team delivering the project could then rebuild all computers while users attended brief training sessions – so minimising disruption to the firm's ability to service its clients.
Project manager Dave Lee, who is based at the firm's Bristol office, said: "This has been a huge project for the firm involving the whole of the IT team. One of our key goals was to engage fully with the firm on what we were doing and why.
"This helped not only to engage with our end users but to allow them to give useful feedback prior to delivering a final product before the build had been f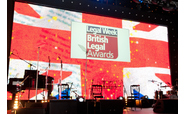 inalised.
"This was extremely well received by the firm and, when they attended training, they were much more prepared for the differences in the software."
Director of IT and facilities Ben Weinberger added: "The team was successful in delivering a very ambitious project under very tight deadlines. This project is fully aligned with our vision to provide the best service experience to our clients by using technology to work collaboratively, and to provide up-to-date management information to enable us and our clients to improve our businesses."
Earlier this year Bond Pearce, which has offices in London, Aberdeen, Southampton and Plymouth as well as Bristol, was shortlisted in the Best Technology Project category in The Lawyer's Awards. It also won the Desktop and Application Services Champion award at the International Legal Technology Association (ILTA) peer awards programme, and was shortlisted for Project of the Year and Knowledge Management Champion.
The winner of the British Legal Awards' Best Use of Technology category will be chosen by an independent panel of judges looking at how technology has played a critical role in the performance of the firm.
The awards are staged in London on November 22.