A strong track record of ethical investing has earned Bristol-based wealth management boutique Whitechurch Securities a major national award.

The firm has run successful ethical portfolios since 2016 and recently launched a 'responsible dynamic' range.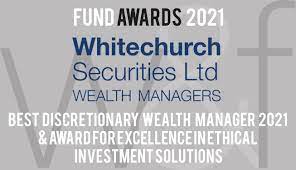 It topped the Best Discretionary Wealth Manager for Excellence in Ethical Investment Solutions category in the Fund Awards 2021.

The awards, staged by Wealth & Finance and now in their sixth year, are designed to recognise and award those businesses and professional individuals who have not only provided excellent products and services but have also provided unbeatable commitment and dedication towards their clients and customers.

They employ a dedicated and extensive research, submission and judging process to ensure they are issued purely on merit.

Research is centred on an in-depth evaluation of skills, services on offer and fund performance.

The wider market reputation of each nominee is also taken into consideration, along with feedback provided from peers and industry professionals.

Privately owned Whitechurch was established in 1982 and has been providing discretionary fund management (DFM) solutions to private individuals, trusts, charities and small businesses since 1990.

It has more than 5,000 DFM clients and assets under management of £404m.

It recently appointed environmental specialist Dr Daniel Say to support and develop its environmental, social, and governance (ESG) investment offering.

Whitechurch is hosting a sustainable investment webinar on November 26 at 10am to look at the implications of COP26 for global finance and the opportunities – and risks – of climate change for investors.

For more information, click here