National law firm TLT, which has its HQ in Bristol, has advised leading pan-European solar energy company ILOS on funding for the construction and operation of four ground mounted solar PV projects in the UK.
The £70m debt facility from Bayerische Landesbank includes an accordion facility option for the funding of two further projects, totalling 230MWp, each project benefitting from the Contracts for Difference scheme – the government's primary mechanism for supporting low carbon power infrastructure.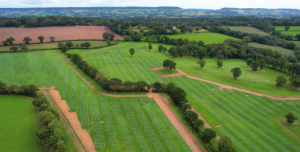 Germany-based ILOS is committed to becoming a pioneering Independent Power Producer (IPP) in the PV industry and has plans to develop over 10GWp of renewable energy by 2025 across Europe and the US.
The financing was led by banking partner Gary Roscoe and managing associate Emily Huish, which saw TLT offer full-service support to ILOS from the early development stages of the projects all the way through to financing, including securing land rights, structuring ILOS' construction documentation and negotiating the suite of finance documents to reach a successful financial close.
The transaction involved a cross-sector collaborative approach between the firm's real estate, construction, commercial, tax, corporate and banking teams.
Matt Grimwood, real estate and client relationship partner, who led TLT's real estate team during the project, commented: "This is a great outcome for ILOS, which will not only enable them to develop their UK-based and further themselves in our renewable energy market, but also contribute to home-grown sustainable energy in the UK.
"The transaction demonstrates that, despite a challenging economic landscape, oversees businesses still have an appetite to invest and develop renewable energy sources in the UK. Currently, we see no sign of this slowing down.
"Working with ILOS from the early stages of this project has strengthened our relationship with the business and demonstrates the in-depth understanding TLT has of the future energy sector, which stretches across our real estate, corporate, construction, banking and commercial teams."
"Our mission is to promote the energy transition and drive the global expansion of renewable energy." explained Nikolaus Krane, CEO of ILOS Projects GmbH. "We along with our partners are delighted to significantly contribute to a reduction of global CO2 emissions.".