Bristol-headquartered law firm TLT has advised the management team of a high-growth Wiltshire mobile software firm on its sale to a major US company.
The acquisition of M-Netics by the UK arm of Peak-Ryzex creates one of the UK's largest firms in a fast-growing sector.
M-Netics develops software that links to technology such as hand-held barcode scanners to improve in-store and back office, supply chain, mobile worker and proof of delivery functions, so helping retailers and logistics businesses streamline their supply chains.

Its customers include leading logistics providers, manufacturers, retailers and field service organisations and it has close partnerships with leading wireless technology companies including Motorola, Zebra, IBM and ALK.
Both M-Netics and Peak-Ryzex are based in Chippenham. M-Netics, which has more than 15,000 users running its applications, will now operate as a subsidiary of Peak-Ryzex, which is owned by Keystone Capital, a private investment firm based in Chicago.
Peak-Ryzex will leverage M-Netics technology to expand its customer offering including mobile applications for the operations of multi-channel retailers.
The TLT team was led by corporate partner Andrew Webber, pictured below, with corporate solicitor Thomas Rees and included specialists from the firm's corporate, employment, tax, pensions & incentives; real estate, commercial and banking & restructuring teams.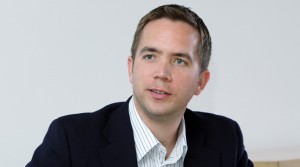 Andrew Webber said: "We're delighted to have worked with the management team at M-Netics on this strategic deal. It highlights the strength in the sector of their existing offering and will create important growth opportunities for the business in the UK and North America markets, enabling the team to play an important part in the continued growth of the merged group."
M-Netics managing director John Coon said: "It's an exciting time for M-Netics and Peak-Ryzex. The union of our two companies means that we will have a larger geographic presence with new capabilities to expand our combined portfolio of solutions and services.
"Throughout the process we worked closely with TLT, who consistently gave us excellent commercial advice on all aspects of preparing for and executing the deal."
M-Netics founder and chairman Tim Hamilton-Davies added: "Working shoulder-to-shoulder with TLT was invaluable to the process as they understand the sector we and our clients work in.
"They supported the management team from start to finish, delivering first-class results. By joining forces with Peak-Ryzex, we are now part of one of the largest, most dynamic international mobile solutions providers in the market today; a fantastic outcome for M-Netics."
Financial details of the deal have disclosed.
This deal builds on a busy year to date for TLT's corporate team nationally. Within the past three months it has advised Smart Transactions Group on the multimillion pound sale of its subsidiary, Applied Card Technology, a leading UK smart travel ticketing provider, to Fujitsu. It also recently advised Intercity Technology, the national communications technology specialist, on its acquisition of Imerja, an IT services provider.