The corporate team at Bristol-headquartered national law firm TLT has advised the incoming chief executive and management team at heating and cooling equipment business Watkins Hire on a £10.1m private equity investment which backed their acquisition of the firm.
Paul O'Kelly joined Watkins as chief executive as part of a management buy-out at the Lydney, Gloucestershire-based firm, which supplies heaters, boilers, chillers and air conditioning units from depots across the UK.
Set up in 1998, Watkins Hire last year was a major contractor to the London 2012 Olympics
The investment came from private equity investor Baird Capital Partners Europe. The business intends to use the funding to grow its rental fleet and invest in engineering, service and operational infrastructure.
Mr O'Kelly said: "I am very pleased to be able to join Watkins Hire at such and exciting period in its development. With the financial backing from Baird Capital we will be able to invest further in the company's modern and efficient rental fleet in support of a key account driven growth plan.
"It was a pleasure to work with the TLT corporate team on this transaction. They were very efficient, knowledgeable and practical in the legal negotiations. The management team were all very happy with the support from TLT"
The TLT team was led by corporate associate Jon Gill, pictured, with support from employment associate Harry Parker and corporate solicitor Jack Wolton.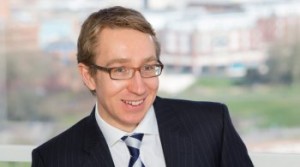 The deal follows last month's acquisition of Exeter-based engineering firm Goodridge by Rubicon Partners, which was also handled by TLT.
Mr Gill said there had been a recent upturn in activity from private equity firms looking to invest in businesses in the West – a trend it expects to continue into 2014.
International law firm Livingstone advised the shareholders of Watkins Hire.