Bristol-based specialist energy investment company Thrive Renewables has sold two of its onshore windfarms in a deal in which it was advised by city-headquartered national law firm TLT.
The proceeds of the sale of the farms in North Wales and Suffolk – which have generated enough clean electricity a year to power more than 9,000 homes annually – will be used to build new renewable energy capacity.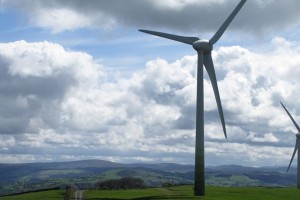 The farms, with a total generation capacity of 13MW, have been bought by infrastructure fund manager Equitix.
Thrive, previously part of Bristol-based ethical bank Triodos but now independent, said the sale took advantage of current high market valuations for operational projects.
Thrive developed the sites between 2009 and 2011. The firm owns around 20 renewable energy projects, including the wind turbine at Avonmouth.
Managing director Matthew Clayton said: "We have been a key player in this market for the last 24 years and are now entering a new era of subsidy free renewables.
"We plan to use our extensive experience and values-led approach to continue delivering cost-effective clean energy projects in the UK that reduce carbon emissions, improve our air quality and deliver returns to our shareholders.
"Our mission is to power the transition to a sustainable energy future by providing people with a rewarding connection to clean energy projects and this deal is an important part of that. We are actively enabling shareholders to realise some of the gains that their assets have achieved, while also freeing up money to invest in new renewable energy capacity and increase the positive impact of our business."
The TLT team advising on the sale was led by partner and head of clean energy Maria Connolly alongside partners Matthew Grimwood and Katherine Evans and legal assistant Grace Humphries.
Thrive senior investment manager Monika Paplaczyk said: "This deal is an important part of our mission to power the transition to a sustainable energy future. TLT really understands our needs as a business – both what's needed today and to deliver our future plans – and helped to ensured that this deal met our requirements and ultimately completed on time."
Maria Connolly added: "Thrive and TLT both have a long heritage in the clean energy market and we are delighted to be supporting Thrive with its forward-looking approach to renewable energy generation. There is a strong secondary market for operational assets, particularly windfarms, and this is underpinning some exciting new investments across the market."
Thrive changed its name from Triodos Renewables to Thrive Renewables in 2016 as part of a transition which made the company fully independent of Triodos, although based at Triodos' Bristol city centre HQ and the bank retains a major shareholding.
The firm offers opportunities for individuals, foundations and funds to invest in clean energy projects that deliver financial, environmental and social rewards.