Airline bmi regional today announced three more direct flights from Bristol Airport to major European cities – opening up key business opportunities for West firms.
The airline, which launched its service to Hamburg on Monday, is to fly to Munich, Hanover and Milan from May.
It also today announced that, due to demand, it is to double the number of fights to Frankfurt – Germany's financial powerhouse – before it has launched the service.
All three new routes are to major business centres – Milan is Italy's media and fashion capital as well as a key financial centre while Munich is the heart of Germany's IT and engineering industry. It also has a vibrant media sector.
Hanover already has strong links with Bristol – the two are twinned cities – and is also a major manufacturing centre and location for many of Europe's largest industrial shows.
Bmi regional chief executive Cathal O'Connell said: "The launch of these routes is a continuation of bmi regional's promise to serve key economic and tourism hubs in Europe from the UK.
"We are positioning bmi regional for real growth in Bristol and the South West, having already launched three routes from Bristol before Christmas to Aberdeen, Frankfurt and Hamburg.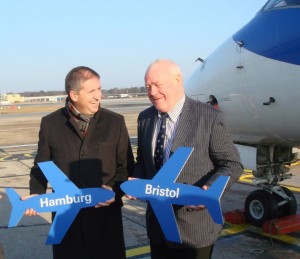 "These routes have gained real momentum and, as a result, we are doubling our frequency on the Frankfurt route to twice a day."
Speaking to Bristol Business News Travel Editor Anne Gorringe on Monday's inaugural Bristol-Hamburg flight, bmi chairman Ian Woodley said that the ability to "focus on regional airports was crucial" to the company.
The Munich, Milan and Hanover flights start on May 13 with six flights on each route per week.
Cathal O'Connell added: "Bmi's regional strategy is to choose destinations with both business and leisure customer demand. Munich, Milan and Hanover are major centres for technology and manufacturing. In addition, these cities boast some of the world's most famous cultural, sport and tourism attractions."
Bristol Airport chief executive officer Robert Sinclair said: "Bmi regional has recognised the strength and resilience of the South West economy and has made a major commitment to connect corporates in the region to key European business centres.
"The three new routes will also appeal to leisure travellers and will generate additional inbound visitors to both the South West and Wales.
"Along with increased frequency on its Frankfurt service, bmi regional's new routes will provide convenient alternatives for passengers currently travelling to London airports in order to fly to these destinations.
"Businesses in the region have told us that more connections to Germany are one of their top priorities, promoting trade and commerce with Europe's largest economy.
The airport is continuing to improve facilities for the business travellers and recent enhancements have included an expanded premier car park, additional security channels and second immigration facility. A new business lounge will be opened in April.
Fares to Hanover, Munich and Milan will start from £59 each way.
Fares will start from £59 each way.
Pictured: bmi chairman Ian Woodley (right) is greeted off Monday's inaugural Bristol-Hamburg flight by Michael Eggenschwiler, CEO of Hamburg Airport