Each week Bristol Business News gives a prominent member of the city's business community the last word on its weekly e-bulletin. This week, to mark our last issue before Christmas, Rudolph the Red-Nosed Reindeer answers our 10 questions.
What was the LAST: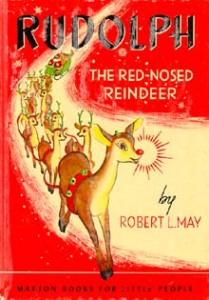 Film you watched? Home Alone, obviously. It's a great film – and it's got that Chuck Berry song about me in the scene when they're late for the airport!
Book you read? There's lots of books about reindeers, even some about me. And my shiny nose means I can read them without the light on!
Music you bought/downloaded? Bing Crosby singing about me! Much better than White Christmas!
Concert or play you went to? There's not much entertainment here at the North Pole. And, besides, all the other reindeer used to laugh and call me names if I did go to anything.
Sporting event you attended? It's only recently that all of the other reindeer have let me join in any reindeer games.
Holiday you went on? Does guiding Santa's sleigh on a foggy Christmas Eve count? We visited every house on the entire planet that night to deliver presents, which I imagine is more than most people do on their holidays.
Restaurant you ate in? With all those carrots that children around the world leave out for us reindeer on Christmas Eve, we don't need to eat out for the entire year.
Thing that annoyed you? The other reindeer! Name-calling isn't nice. But, hey, that doesn't happen anymore!
Thing that made you laugh out loud? Being told "Rudolph, you'll go down in history".
Piece of good advice you were given? Follow your nose.
Rudolph the Red-Nosed Reindeer is the most famous reindeer of all. He was created by Robert Lewis May and first appeared in a book in 1939. He was immortalised in the famous song, first recorded by Gene Autry, and has also starred in numerous films and books, on Christmas cards and even novelty jumpers. He lives at the North Pole with Santa and his fellow reindeer.