Each week Bristol Business News gives a prominent member of the city's business community the last word on its weekly e-bulletin. This week Rob Hingston, head of Origin at Origin Workspace, answers our 10 questions.
What was the LAST: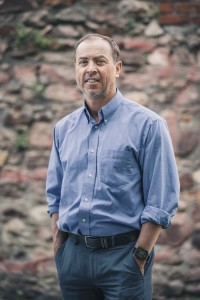 Film you watched? Black Panther. Fast-paced, great cast and the whole family loved it. 
Book you read? The World of Cycling According to Geraint Thomas. Great insight into the world of cycling. 
Music you bought/downloaded? I love movie soundtracks. The last great soundtrack I downloaded was from the movie Dunkirk. A lot of people ask what I listen to when I run, but I like to stay in touch with mother nature and hear what's going on around me.
Concert or play you went to? I love going to comedy shows. Last one I went to see was Michael McIntyre a couple of weeks ago at the Bristol Hippodrome.
Sporting event you attended? European Rugby Challenge Cup match Bristol vs Zebre at Ashton Gate. It was great to see Bristol win 43-22.
Holiday you went on? I try to visit my family in Nice as much as I can. I love getting up in the morning and going for a run by the sea to clear my lungs and mind. 
Restaurant you ate in? Spiny Lobster on Whiteladies Road. Fish dishes are always my favourite. 
Thing that annoyed you? Coming from a customer service background, when I get bad customer service it does annoy me a little more than it should. 
Thing that made you laugh out loud? Michael McIntyre did a great impression of a Bristolian. I was laughing so much by ribs hurt.   
Piece of good advice you were given? A good idea today is better than a perfect idea tomorrow.
An ironman in every sense, Rob has completed the gruelling race three times and is currently training for his fourth event in Nice next June. He has 16 marathons under his belt (including Boston, New York and Athens) and 61 triathlons. Rob lives in Bristol and in his spare time coaches at Clifton Rugby Club, Bristol Cricket Club and Southville Runners. He is currently managing the £8m redevelopment of 40 Berkeley Square, transforming it into Origin Workspace, Bristol's most contemporary co-working space.