Each week Bristol Business News gives a prominent member of the city's business community the last word on its weekly e-bulletin.
This week Oliver Mochizuki, co-founder and CEO of Fundsurfer.com, answers our 10 questions.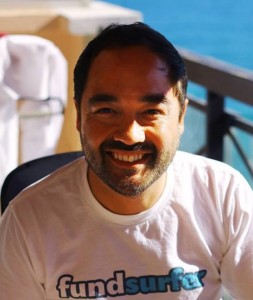 What was the LAST:
Film you watched? New World by Park Hoon-Jung, I am obsessed with Korean films and this is a great one. If you liked The Godfather you will love this.
Book you read? The Entrepreneurial State by Mariana Mazzucato. The author makes the case for the public and private sector to change the way they interact and work together. I'm on her side.
Music you bought/downloaded? Kano Made in the Manor. Excellent new album from one of the UK's best artists. Best played loud.
Concert or play you went to? Adele at the O2 in London last week for the first of her London tour dates for 25. She's amazing live, incredible voice and also very funny during the show too.
Sporting event you attended? Liverpool v Sunderland at Anfield. Liverpool won 2-0 if I remember rightly – it was a couple years ago now.
Holiday you went on? Bali for Christmas. Amazing weather, beautiful island and great people.
Restaurant you ate in? Zazus on Glos Road. It's my favourite at the moment. Their eggs florentine is unbeatable. Love the staff as well.
Thing that annoyed you? People talking at the cinema during the movie. Just don't do it!
Thing that made you laugh out loud? John Oliver and his campaign to #MakeDonaldDrumpfAgain. Although being honest it is no laughing matter what is happening to American politics right now.
Piece of good advice you were given? Only ever hire people that are better than you in every way.
Oliver Mochizuki is an experienced music festival director and charity trustee having co-founded BrisFest and the Bristol Festival Community Group.  Having completed a degree in film production in 2010 at the International Film School, UK, he has added film financing and packaging to his portfolio career, co-founding LA based Ghost Rain Pictures, a film production company. He is currently working with his producing partners in LA, NY and Paris to open up new and innovative ways to finance feature film slates. He is also the co-founder of a crowdfunding and commercial finance platform Fundsurfer, which provides access to a range of alternative and traditional funding options alongside a unique blend of support. Oliver is a fellow of the Royal Society of Arts and is a member of the IOD 99. He is also the chairman of the Diplomatic Council Global Funding Program, working with the United Nations Economic and Social Council to fund humanitarian and commercial projects and companies.