Each week Bristol Business News gives a prominent member of the city's business community the last word on its weekly e-bulletin. This week Nick Gerolemou, head of product management at Limbs & Things, answers our 10 questions.
What was the LAST: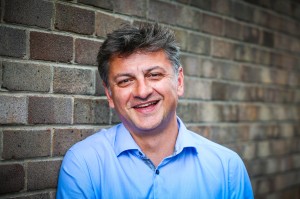 Film you watched? Brian & Charles at the Watershed, starring David Earle as a lonely inventor in rural Wales who creates a robot out of found objects. The story is all about the relationship he forms with the robot called Charles, and the antics they get up to. It's a simple yet enjoyably heart-warming film, with a gentle pace. A bit of a tonic in today's current climate.
Book you read? Actually cheating here a little as it's a book I read many years ago, but have just re-read it. It's called Parallel Lines by Ian Marchant. Each of the chapters is centred around a railway trip that the author took, it is like a travel book, as much as it is a history book. Ian's writing style is mixed with the right blend of witty observation and fascination with the British railway system. It appeals to the nerdier side of my character.
Music you bought/downloaded? Talk Talk's album Laughing Stock. I have always enjoyed the more commercial side of this band's repertoire but more recently as I've learned to appreciate the less formulaic and melancholic sounds of their last two albums. Laughing Stock was their fifth and final studio album and takes a number of listens to get into it.
Concert or play you went to? It has to be a gig in my mind. The Psychedelic Furs, back in April with my daughter Elia. An 80s favourite of mine, who I never got to see in their heyday. Recently their song Love my Way featured in a coming of age film called Call Me By Your Name. This was Elia's introduction to them and she has since picked through their back-catalogue, so is a fan as well.
Sporting event you attended? Not a big one for sports, so that will have to be my son's last football match for Clifton Juniors, about three years ago. I spent many a rainy midweek evening watching him form the side-line.
Holiday you went on? I have recently come back from a place called Mojacar in Southern Spain. It's a lovely coastal resort but with its historic town set back on a hill. Great place to explore, in terms of narrow winding streets and great places to eat.
Restaurant you ate in? Pulcinella in Mojacar. A lovely spot on a rooftop patio with amazing views. Italian food in Spain? I know it's not traditional but I did have the best frutti di mare pizza ever.
Thing that annoyed you? People on scooters and cyclists who run through a red light in traffic. I've seen a few near misses as a result.
Thing that made you laugh out loud? Numerous scenes from the channel 4 comedy Stath Lets Flats; perhaps the most ridiculous and cringeworthy show I've seen in a long time about a family letting agency in London.
Piece of good advice you were given? Listening to Dr Michael Mosley on Radio 4 late one evening the other week giving some advice on how to get a good night's sleep. "Take a warm shower an hour or so before going to bed." Last two nights it's worked a treat!
Nick Gerolemou is head of product management at Bristol-based medical simulator manufacturer Limbs & Things, where he's worked for 29 years after joining as a junior product designer. He lives in Bristol and is also a part-time artist who paints landscapes and exhibits yearly at the North Bristol Arts trail on the last weekend of November.