Each week Bristol Business News gives a prominent member of the city's business community the last word on its weekly e-bulletin. This week Ned Dorbin, investor in the South West office of BGF, answers our 10 questions.
What was the LAST: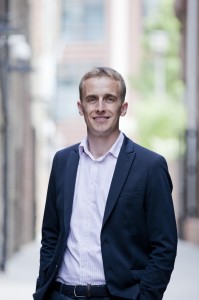 Film you watched? Darkest Hour
Book you read? Moon Tiger by Penelope Lively (but, unfortunately, I can't remember the one before that…) 
Music you bought/downloaded? I caught the end of an Amy Winehouse song on the radio in my car and realised I hadn't heard it for ages so went home and listened to loads of her songs.
Concert or play you went to? Matilda in Cardiff, which comes highly recommended for a family night out.
Sporting event you attended? Cricket at The Oval, England v India (the day Alastair Cook scored his last Test century).
Holiday you went on? Mallorca in October, mostly in the rain!
Restaurant you ate in? Clifton Sausage for a team night out, which was great fun.
Thing that annoyed you? Indecisiveness.
Thing that made you laugh out loud? Playing rugby against my son's U9s team with the other dads and we were soundly beaten!
Piece of good advice you were given? Remember to celebrate your successes, because otherwise they pass you by and you move on to the next thing without having some fun along the way.
Ned Dorbin leads the investment team in the South West and Wales at BGF and is responsible for finding and completing new investment opportunities as well as continuing to work with the boards of BGF's investee companies. He joined BGF in 2012 from Maven Capital Partners, having worked in their London office since 2007. He has completed more than 25 equity investments and has been involved with the boards of most of these companies. Earlier in his career Ned worked in corporate finance with BDO Stoy Hayward after qualifying as a chartered accountant in 2001. He lives in Bristol and his hobbies include football, golf, messing around with his three children, holidays, collecting and drinking wine.