Each week Bristol Business News gives a prominent member of the city's business community the last word on our weekly e-bulletin. This week Lord Mayor of Bristol, Councillor Lesley Alexander, answers our 10 questions.
What was the LAST: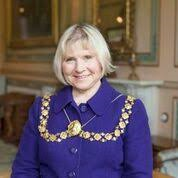 Film you watched? Dunkirk
Book you read? I haven't had a lot of time to read since taking on this wonderful and very busy role but I enjoyed Origin by Dan Brown
Music you bought/downloaded? The pure soprano voice of Emma Kirkby. We were school friends when we were about eight years old!
Concert or play you went to? The Lord Mayor's Appeal Christmas Carol Concert at Colston Hall, which is the other major fundraising event for the appeal in partnership with the Bristol Post and BBC Radio Bristol. We always feel it officially kicks off Christmas!
Sporting event you attended? A cricket match at Gloucestershire Country Cricket Ground.
Holiday you went on? Chateau-d'Oex in Switzerland to attend its international balloon festival and go on a hot air balloon ride. It made me feel as if I had taken a little bit of Bristol with me.
Restaurant you ate in? Fishers in Clifton. Somewhere we always enjoy.
Thing that annoyed you? Unwanted and unsolicited cold calls
Thing that made you laugh out loud? A funny YouTube video involving cats
Piece of good advice you were given? When making speeches keep them short!   
The current Lord Mayor of Bristol, Cllr Lesley Alexander, was born near Glastonbury and educated at Yeovil High School for Girls and Yeovil College. She worked at NatWest from 1965 to 2000 – starting, in her own words, at the bottom and finishing as manager in the international division. Every year the Lord Mayor's Children Appeal raises £66,000 for some of the city's most disadvantaged children. One of the major fundraising drives for the campaign is an annual Gift Gala which this year takes place at City Hall on May 17, supported by the city's business community. To book tickets, visit www.lordmayorofbristolappeal.com