Each week Bristol Business News gives a prominent member of the city's business community the last word on its weekly e-bulletin. This week Jonnie Galvin-Wright, chairman of Bristol agency Stuff Advertising, answers our 10 questions.
What was the LAST:
What was the last film you watched? The Power of the Dog on Netflix. A psychological Western with a surprising last act. Strong characters and great cinematography. A film directed by Jane Campion, who also made The Piano, a film I originally saw at Bristol's Watershed and one that would be in my Top 10. Both are haunting and beautifully made.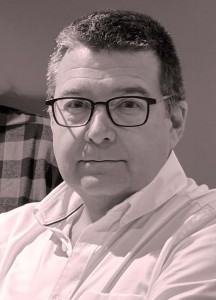 Book you read? I recently re-read both Animal Farm and 1984 by George Orwell. It was fascinating to see how many of the themes raised are present in society today. I also like military history and am half-way through The Templars by Dan Jones. A real rise and fall. And of course, why Temple Church and district exists in Bristol today. I also try and keep a 'business' book on the go and that's currently Problem Solved by Michael Johnson. At its heart, advertising, branding and marketing is all about problem solving.
Music you bought/downloaded? The Pogues. Having again heard the classic Fairytale of New York at Christmas, I realised I'd never heard more of their music, especially as somewhere in my family there is some Irish blood. That also meant that until now I never realised that Joe Strummer of The Clash once replaced Shane MacGowan as singer. True fact.
Concert or play you went to? I'm also a big lover of classical music. In fact, before lock-down I'd been known to put on the most stirring classical music in the office at the start of the day. However, I have a feeling I won't get so much control of the office Spotify account on our return to the office more permanently! Pre-Christmas I went to the tribute to composer Ludovico Einaudi at Bristol Museum. It was a candle lit event and the museum environment was stunning. I also enjoy concerts at St George's and Bach is my preference.
Sporting event you attended? Clifton Rugby vs Leicester Lions. I used to coach at the club and still like popping up to see a 'real' game of rugby watching from the touchline. Clifton are having a great season and are currently top of their national league. I often go down to Ashton Gate to see the Bears and this year I've also grabbed a game at Shaftesbury Park to see Bristol Bears Women.
Holiday you went on? Most years we take the same house in the same village in Cornwall. Sounds boring! However, it's a guaranteed crowd pleaser with a lovely beach, walks, pubs etc. Now the children are more grown up everyone is just free just to turn up with partners, dogs and anyone else and just come and go as they please. This year we will be doing the same but also having a big family gathering of the clan in Northumberland.
Restaurants you ate in? Locally, there is the excellent Westbury Park Tavern, part of the Zasu's Kitchen chain in Bristol. Great roasts! We had the good fortune to get a night away at The Pig at Harlyn Bay, Cornwall, just before Christmas and ate at the hotel restaurant. The hotel has its own kitchen garden where most of the vegetables are grown. The celeriac on its own was a revelation – words I never thought I would write!
Thing that annoyed you? The lack of leisure facilities available for disabled children in Bristol. Something the charity Gympanzees is looking to put right. Please do check out its website and appeal at https://www.gympanzees.org. Plus, the news that children in Afghanistan are being sold by their families as they can no longer care for them. Can anyone here even imagine having to make this decision? It's true, the re-establishment of this country is no easy task and filled with many, many complications, but we must do what we can to help.
Things that made you laugh out loud? Steven Toast (Matt Berry) in Toast of London. Having been involved in producing quite a few radio commercials over the years I can confirm that the voice over scenes in the recording studios with Clem Fandango are scarily accurate. Also, Ricky Gervais' 'mid-life' outbursts in the excellent After Life.
Piece of good advice you were given? Listen. It's amazing what you can hear from colleagues, clients and friends if you just let people talk. It's underrated in business as a skill. Finally, never be afraid to give of your time and energy. It's always rewarding.
Jonnie Galvin-Wright is chairman of Stuff Advertising, the Bristol creative communications agency with clients across the South West ranging from Mars to Visit West to YTL Developments UK. He is also a board trustee of Gympanzees, the Bristol charity providing support and leisure facilities to children with disabilities. Visit https://www.gympanzees.org to find out more about its latest appeal. He was also previously a board director of the Chartered Institute of Marketing South West and a board director of Bristol Media (now Bristol Creative Industries).