Each week Bristol Business News gives a prominent member of the city's business community the last word on its weekly e-bulletin. This week Ian Bates, founder and creative partner of Bristol-based brand consultancy Firehaus, answers our 10 questions.
What was the LAST: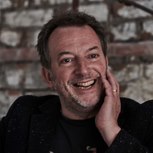 Film you watched? Titane, written and director by Julia Ducournau – probably the most challenging film I've ever watched and unlike anything else I've ever seen. Brutal, magical, horrific, redemptive. Extraordinary. 
Book you read? Mani: Travels in the Southern Peloponnese by Patrick Leigh Fermor. He's also right up there with people I'd most like to meet. What an amazing man.
Music you bought/downloaded? Steve Young - Look Homeward Angel on white vinyl. He was part of the outlaw country movement, a songwriting drifter and brilliant guitar player. Saw him by the happiest of accidents in the early 80's and was hooked. Sadly he died in 2016 and didn't leave a huge back catalogue but a lot of people may know his song Seven Bridges Road.
Concert or play you went to? Someone I'd previously never heard of – Marquis Hill. A client bought tickets for a gig in Milan while we were working there. I saw the band again a week later in Southampton, that's how good the first gig was. Mind-blowing contemporary jazz. Peerless musicianship and transcendent performances.
Sporting event you attended? Coventry City v Preston. I'm a lifelong Sky Blue.
Holiday you went on? Holiday, wot dat? Grabbed a weekend in Oxford. It's nice there, isn't it? Can't wait to get back to my home from home, Crete – history, landscape, people, music, food and sun.
Restaurant you ate in? Newton St Loe Farm Shop. Outstanding local produce.
Thing that annoyed you? Every time someone says '100%' instead of 'yes'.
Thing that made you laugh out loud? The Daily Mail.
Piece of good advice you were given? Don't eat the yellow snow – Frank Zappa, 1974.
Ian Bates is a founder and creative partner at Firehaus. His career has largely been spent with brands at the intersection of creativity, data and technology. A co-instigator of the DMA Marketing Confident Initiative for start-ups and scale-ups, Ian remains passionate about the power of ideas and the potential in people to bring both commercial and personal growth. Former roles include Trustee GRT Creative Network for students, DMA Awards committee and Grand Prix judge, vice-chair of the DMA UK Agencies Council.