Each week Bristol Business News gives a prominent member of the city's business community the last word on its weekly e-bulletin. This week Giles Woodward, a partner in Bristol law firm Barcan+Kirby, answers our 10 questions.
What was the LAST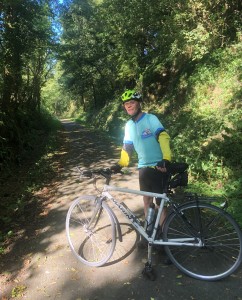 Film you watched? The last film I saw at the cinema was Bohemian Rhapsody, on my birthday in December. Great music and I was pleased it did well at the Oscars. I don't seem to be able to make time to sit down and watch films – but maybe after I retire in December?
Book you read? Alan Johnson's autobiography This Boy. It's based on his early years living in poverty in 1950's Notting Hill. I saw him give a lecture at Redgrave Theatre last weekend, a very articulate, interesting modest and humorous man.
Music you bought/downloaded? Rag 'n' Bone Man – Human. I was told by my son I had to listen to it as we were seeing him at Festival 6, at beautiful Port Merion in North Wales.
Concert or play you went to? Muse at Ashton Gate this year with my long term 'gig buddy', who now sits as a full-time judge! The last time I saw Muse at Motorpoint Arena in Cardiff was over 10 years ago, and at Glastonbury Festival several years before that. I was told they could hear the Ashton Court concert very clearly at home in Clifton Wood, a couple of miles away, so could therefore have saved buying the ticket.
Sporting event you attended? England v Pakistan cricket in May this year. High-scoring England win in unusual searing May heat. I sat in the family stand to avoid the fancy dress and heavy drinking and to be able to watch the cricket!
Holiday you went on? A seven-day bike ride with a fellow solicitor. Rode from the Lake District to Fort William via Arran in July. More than 510 miles in glorious sunshine with amazing views and wildlife including deer, red squirrels, pine martins and weasels. We got the night sleeper train back and spent 10 hours broken down on hot midgy-infested Rannoch Moor with no air conditioning!
Restaurant you ate in? Spiny Lobster fishmonger and restaurant on Whiteladies Road last weekend. Exquisite food and relaxed atmosphere.
Thing that annoyed you? The many steep uphill's in Cornwall and Devon on our Grand Appeal Ride in September. Also not always being able to get work/life balance right. All due to change after retirement in December.
Thing that made you laugh out loud? The many Two Ronnie's repeats on TV. Good old-fashioned comedy. I was never a Morecambe and Wise fan.
Piece of good advice you were given? Try to listen to other people, smile often and never take yourself too seriously!
Giles Woodward is one of the founding partners of Bristol law firm Barcan Woodward, now Barcan+Kirby. He has been with the firm for more than 40 years, based at its office in Horfield. He recently raised more than £7,300 with colleague Gemma Geoghegan for The Grand Appeal charity in an epic cycle challenge from Land's End to Bristol and by organising an auction. It's the third year Barcan+Kirby has taken part in and sponsored this Grand Appeal bike ride, with a total of more than £14,000 raised.